John Adams: Saxophone Concerto reviews from Sydney
(September 2013)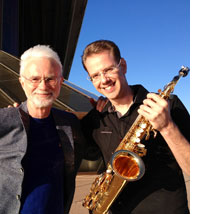 In his new concerto John Adams fuses classical saxophone with recollections of Stan Getz and Charlie Parker.
John Adams's tour of Australia in August, conducting the Sydney and Melbourne Symphony Orchestras, unveiled his new concerto written for the virtuosic talents of saxophonist Timothy McAllister. The programmes also included the first Australian performances of his Violin Concerto with Leila Josefowicz, who has played the work over 100 times around the world.

The Saxophone Concerto travels homeward to the USA this autumn with performances by the Baltimore Symphony conducted by Marin Alsop (20-22 September) and the Saint Louis Symphony under David Robertson (5-6 October). The South American premiere is planned by the São Paulo Symphony Orchestra and dates for European performances are scheduled from summer 2014 onwards.

Adams writes in his programme note about how he grew up "hearing the sound of the saxophone virtually every day – my father had played alto in swing bands during the 1930s and our family record collection was well stocked with albums by the great jazz masters – I never considered the saxophone an alien instrument… Fortunately I met Tim McAllister, who is quite likely the reigning master of the classical saxophone, an artist who while rigorously trained is also aware of the jazz tradition."

Timothy McAllister has described how he hears "the thread of the saxophone as the 'point man' for some rather challenging, polyrhythmic orchestral writing throughout – the sax is the center of the architecture rather than simply being a detached personality out in front of the ensemble… the scope of the concerto – close to 30 minutes – makes for a physically demanding work, and, easily, the most important work for saxophone in this young century."

"Adams has thrown down the gauntlet with a solo line which demands speed, flexibility, musicality and, above all, stamina to keep going with barely a bar's rest… the Sharks and the Jets morphed into a restless riff, while muted trumpets and piccolos summoned the ghost of Stravinsky's Rite of Spring. But the most beautiful moments were all Adams, from the brain-addling cross-rhythms of the final movement to the delicate interplay between solo saxophone and clarinet."
Sydney Morning Herald

"Compared to the Violin Concerto's often subdued, dark-robed instrumentation, the new concerto has an appealing blend of bright colours and astringency. Saxophonist Timothy McAllister was the outstanding soloist, channelling Stan Getz in the smooth lyrical passages. In the relentless, bebop-like figurations – stunningly executed – it recalled the frenetic solos of Charlie Parker, Cannonball Adderley and John Coltrane."
The Australian

Nonesuch is recording the Saxophone Concerto with Timothy McAllister, the Saint Louis Symphony and David Robertson, for future release coupled with City Noir which also includes a prominent solo for McAllister.
> Further information on Work: Saxophone Concerto
Photo: John Adams with Timothy McAllister in Sydney
> News Search
Mailing List
Sign up for news updates and offers via email
SIGN UP
ONLINE SCORES