Karl Jenkins Motets released by Deutsche Grammophon
(May 2014)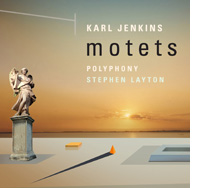 Karl Jenkins's new Motets collection is now available from Deutsche Grammophon and is published for performance by Boosey & Hawkes. A competition invites choirs to upload a Motet to YouTube and Jenkins will compose a new work for the winner.
The latest Karl Jenkins release on Deutsche Grammophon is Motets, a new collection of unaccompanied choral pieces, sung by the ethereal-voiced Polyphony under Stephen Layton (DG 0289 479 3232). The 19 short choral items, combining expressivity and spirituality, are being published individually by Boosey & Hawkes in the Contemporary Choral Series, and collected together in a new vocal album.

Many of the motets are drawn from Jenkins's much-performed large-scale choral works, but here appear in new SATB arrangements, without the complications of orchestral accompaniment, making them readily performable by a wide range of choirs. Favourites include Benedictus from The Armed Man, Pie Jesu from Requiem, Ave Verum Corpus from Stabat Mater and Healing Light from The Peacemakers. The collection also features a specially-composed Locus Iste, two new pieces which are to appear in Jenkins's forthcoming The Healer: a Cantata for St Luke, and a pair of highly attractive arrangements to Latin texts of the Adiemus theme and Palladio.

> Listen to tracks and buy the new CD
> Buy the vocal score

Karl Jenkins Choral Competition
To celebrate the composer's 70th year and the launch of Motets, Boosey & Hawkes invites choirs to enter a competition with the prize of a new choral work specially written by Karl Jenkins. Choirs can upload a YouTube video of their performance of one of the pieces in the Motets collection, and the entries will be judged in April 2015. Jenkins will write the winner a short a cappella work and the choir will have the opportunity to present the world premiere. For full information visit www.boosey.com/MotetsCompetition.

Coming months bring the concert premiere of Adiemus Colores at the Llangollen International Eisteddfod on 9 July, a special performance of The Armed Man with international youth choirs at the Royal Albert Hall on 28 September commemorating the World War I centenary, and 70th birthday concerts in Manchester and Birmingham in November.
> News Search
Mailing List
Sign up for news updates and offers via email
SIGN UP
ONLINE SCORES