Karl Jenkins in New York
(December 2008)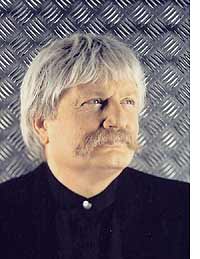 Karl Jenkins in New York: Sarikiz, Te Deum, and Stabat Mater
Karl Jenkins
will visit New York City on January 19 to conduct the world premiere of his new violin concerto,
Sarikiz
, at Avery Fisher Hall. The premiere is part of a portrait concert of his music entitled The Music of Karl Jenkins that will also feature the U.S. premiere performances of his most recent choral works,
Te Deum
(2008) and
Stabat Mater
(2006-07).
For ticketing information please click
HERE
.
Sarikiz
was written for violinist Marat Bisengaliev and commissioned in 2008 by Sapar Iskakov, a well-known Kazakh philanthropist and benefactor, in memory of his ancestor, composer and kobyz player Tlep Aspantaiuly [1757-1820].
Jenkins describes the kobyz as "a kind of violin, with no sound box, played in an upright fashion on one's knees" and continues "…the concerto was written for Marat Bisengaliev and is in three movements, I. Sarikiz, II. Romanza, III. Dance. Apart from the occasional use of Kazakh themes, I employ two Kazakh indigenous percussion instruments, the dabel [hand drum] and kepshek [tambourine]."
Marat Bisengaliev, who has already recorded the piece for EMI on a
disc
of Jenkins concertos entitled
Quirk
, will be the featured soloist.
Conductor Jonathan Griffith will lead soloists Belinda Sykes and Charlotte Daw Paulsen along with the Distinguished Concerts Orchestra International and Distinguished Singers International in the choral portion of the program. Jenkins's latest work,
Te Deum
(2008), is a 15-minute canticle setting, scored for chorus and a small orchestra of two trumpets, strings and five percussionists. Commissioned by the Liverpool Welsh Choral, it premiered in November in celebration of the city's European Capital of Culture year.
Stabat Mater
(2006-07) has traveled extensively in the UK and follows the worldwide success of
The Armed Man: A Mass for Peace
and
Requiem
, which have become repertoire favorites with choirs around the world.
The Armed Man
has received over 500 performances since its premiere in 2000.
As with his earlier works for choir and orchestra, Jenkins interpolates the Latin sacred texts with settings of sympathetic poetry. The themes of weeping, desolation and prayer, as Mary sees her son on the cross, are reflected in Persian and ancient Babylonian texts translated into English by poet Grahame Davies, a lament by Carol Barratt, and the hymn
Ave Verum Corpus
. A
recording
is available on EMI.
Listen
to a Podcast of Jenkins talking about Stabat Mater.
> Further information on Work: Sarikiz
Photo credit: Mitch Jenkins
> News Search
Email Newsletters
Sign up for news updates and offers via email
SIGN UP
ONLINE SCORES