Karl Jenkins introduces Symphonic Adiemus on tour
(August 2017)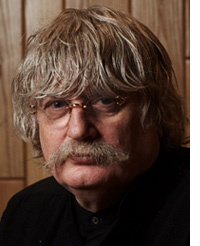 Music by Karl Jenkins tours this autumn to London, Birmingham and Manchester, including first performances of selections from his new Symphonic Adiemus together with the complete The Armed Man.
Karl Jenkins
conducts a programme touring to three UK cities this autumn including selections from his new
Symphonic Adiemus.
This rescores hits from his best-selling series for SATB choir and full symphony orchestra, making the music available for concerts by mixed choirs for the first time. The concert can be heard at the Royal Festival Hall in London (29 September), Symphony Hall in Birmingham (21 October) and the Bridgewater Hall in Manchester (19 November). Performers include the Philharmonia Orchestra at the Southbank Centre and the Manchester Concert Orchestra in Birmingham and Manchester, with mezzo soprano Kathryn Rudge and violinist Joo Yeon Sir.
Since it was first heard in 1994, Karl Jenkins's
Adiemus
has captured the imaginations of music lovers worldwide thanks to its unique combination of classical principles with the flavours of world and ethnic music. The first release in the series,
Adiemus: Songs of Sanctuary,
has sold over 1.5 million albums worldwide. The new
Symphonic Adiemus
draws on numbers from the first three CDs in the series -
Songs of Sanctuary
,
Cantata Mundi
and
Dances of Time -
all of which topped the charts. As well as recasting the new version for traditional mixed SATB choir, rather than women's voices, Jenkins has rescored the accompaniment for full symphony orchestra. Two alternative scorings are in preparation for piano four hands and percussion, and for piano four hands, percussion and strings. A vocal score of
Symphonic Adiemus
will be published by Boosey & Hawkes in the coming months.
The autumn tour programme also includes numbers from
The Peacemakers
and a full performance of
The Armed Man: A Mass for Peace
in the lead up to the centenary of the end of World War I hostilities in 1918. One of the most popular works by a living composer,
The Armed Man
has received over 2000 performances around the world since its premiere in 2000 and has been a fixture on the classical charts ever since the CD was released in 2001.
>
More information on the tour
Photo: Rhys Frampton
> News Search
Email Newsletters
Sign up for news updates and offers via email
SIGN UP
ONLINE SCORES