Karl Jenkins: premiere of Lamentation in Swansea
(September 2018)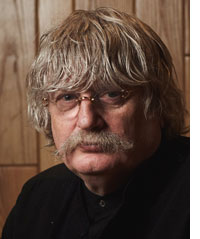 The new score by composer Karl Jenkins sets Lament for Syria, a poem by 13-year-old refugee Amineh Abou Kerech which won last year's Betjeman Poetry Prize for young poets.
The Swansea International Festival plays host to the world premiere on 6 October of
Lamentation
, the new work for mezzo-soprano, cello, chorus and orchestra by
Karl Jenkins
. The commissioned score sets the poem
Lament for Syria
by the young refugee Amineh Abou Kerech, which won the 2017 Betjeman Poetry Prize for young poets aged 10-13.
The premiere at Brangwyn Hall in Swansea features the BBC National Orchestra and Chorus of Wales, mezzo Kathryn Rudge and cellist Abel Selaocoe, with the composer on the rostrum, and will be attended by Amineh Abou Kerech and her family. This all-Jenkins gala concert commemorating the end of World War I also features
The Armed Man: A Mass for Peace
, which has over 200 performances programmed globally this year, and
For the Fallen
, setting the famous poem by Laurence Binyon.
When Jenkins received the commission from the Swansea International Festival for a new ten-minute score he looked for a subject that could sit comfortably with
The Armed Man
. The composer describes how his attention was drawn to a poem written by a Syrian girl who had just won the 2017 Betjeman Poetry Prize for young poets aged 10-13: "Amineh Abou Kerech was born in Syria 13 years previously. From a suburb of Damascus, Amineh's parents, Tammam and Basmeh, fled when Amineh was eight, the year after the civil war began in 2011. They eventually escaped to Egypt where they stayed for four years and where Amineh began writing poetry. They arrived in the UK in 2016 with a new language to learn. Her prize-winning poem,
Lament for Syria
, was written half in English, half in Arabic, and translated fully into English with some assistance from her sister and teacher."
"The poem immediately resonated with me. It is haunting, memorable and surprisingly, to me, occasionally portrays how normal everyday life was there before the horrors of this conflict. I contacted Amineh and her parents, expressed my admiration for the poem and sought permission to set it to music which, I am thrilled to say, was granted."
An interview with Amineh Abou Kerech about winning the Betjeman Poetry Prize appeared in
The Observer
:
https://www.theguardian.com/books/2017/oct/01/the-13-year-old-syrian-refugee-prizewinning-poet-amineh-abou-kerech-betjeman-prize
In addition to the performance of
The Armed Man
in Swansea, Jenkins conducted his score at a charity gala at Westminster Central Hall in London in September, presented by The Royal Armouries who commissioned the score, featuring the Royal Choral Society and Philharmonia Orchestra, and attended by the Duke and Duchess of Sussex. The composer travels to Berlin for a performance on 2 November at the Mercedez-Benz Arena in Berlin with over 3000 choral voices and the World Orchestra for Peace. Choristers from over 20 countries, stretching from Canada to the Philippines and New Zealand, will travel to the German capital to participate in this international plea for peace.
2019 is Karl Jenkins's 75th birthday year and celebrations include a UK tour of
The Armed Man
visiting Cardiff (10 February), Glasgow (3 March), Birmingham (10 March) and Manchester (16 March). The programme also features the recent organ concerto
6000 Pipes
with soloist Jonathan Scott,
Palladio
and selections from
Symphonic Adiemus
, his version of the popular work for SATB chorus and full orchestra which was released on disc by Decca last year.
Karl Jenkins is currently working on a new disc of piano music for Decca and composition of
Miserere (a passion for our time)
, scored for chorus, soloists and orchestra and due for premiere in Autumn 2019.
>
www.swanseafestival.org
>
www.betjemanpoetryprize.co.uk/
>
www.karljenkins.com/
>
www.facebook.com/KarlJenkinsMusic
>
www.boosey.com/jenkins
> Further information on Work: Lamentation
Photo: Rhys Frampton
> News Search
Email Newsletters
Sign up for news updates and offers via email
SIGN UP
ONLINE SCORES