Leonard Bernstein: a survey of the stageworks
(June 2016)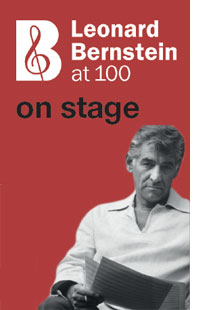 The run up to the centennial of Leonard Bernstein in 2018 offers the opportunity to explore the composer's works for the stage, encompassing opera, ballet and musicals.
The centenary of
Leonard Bernstein
in 2018 offers the opportunity to explore his works for the stage, which energetically break down traditional barriers between theatre, musical, opera and dance. His most famous score,
West Side Story
, was premiered in 1957 thanks to the composer's collaboration with writers Arthur Laurents and Stephen Sondheim and choreographer Jerome Robbins. Fusing jazz, Latin dance and symphonic through-composition, the stagework became an instant hit, transporting Shakespeare's
Romeo and Juliet
to Manhattan's Upper West Side.
Two earlier Broadway musical comedies by Bernstein were also coloured with the sights and sounds of New York, seeing him work with lyricists Betty Comden and Adolph Green.
On the Town
was based on an idea by Jerome Robbins in which three young sailors make the most of 24-hours shore-leave in the Big Apple. Hit numbers including
New York, New York
,
Come up to My Place
and
Some Other Time
follow their pursuit of love and excitement.
Wonderful Town
is a feminine counterpart with two small-town sisters determined to find success in New York City with songs including
A Little Bit in Love
and
One Hundred Easy Ways to Lose a Man
. In addition to theatrical staging, both works have proved successful in concert presentation with linking narration.
Bernstein's sparkling operetta
Candide
has established itself as a repertoire classic through multiple versions since its premiere in 1956 with an impressive roll-call of contributing writers. The work captures Voltaire's depiction of the cynicism of society expressed through Candide's education in optimism to seek
The Best of All Possible Worlds
, banishment from his beloved Cunegonde, picaresque travels around the globe, and his final acceptance of simple hope in
Make Our Garden Grow
. As well as enjoying stage productions,
Candide
is a favourite with orchestras in concert form with narration.
Trouble in Tahiti
is a witty one-act opera popular in double-bills, with its wry commentary on American society following a suburban couple struggling with commitment and communication. Their family story is continued in
A Quiet Place
, Bernstein's only full-scale opera, first staged in Houston and Milan, which has enjoyed a reappraisal over the past decade including performances in New York and Berlin. These interlocking works are both available in versions for larger or reduced forces. The Bernstein stage canon is completed with his genre-blending
Mass
, a popular choice in recent years for a series of high profile community outreach projects, and his incidental music and songs for
Peter Pan
.
Jerome Robbins shares Bernstein's centenary in 2018, and their partnership yielded a sequence of major ballets.
Fancy Free
dating from 1944
was a pre-cursor to
On the Town
, blending male gymnastics, vaudeville and cartoons with modern ballet, while
Facsimile
created two years later explored more complex emotional responses to romantic entanglement. The duo explored Yiddish folk drama in
Dybbuk
in 1974 and, in a further dancework for New York City Ballet, Robbins choreographed the
West Side Story Suite
in 1995. As with the numerous orchestral suites from the theatre works, Bernstein's ballets are ideal for programming in the concert hall.
For full information including licensing contacts view
www.boosey.com/bernstein100brochure
Other Bernstein centennial web surveys:
>
Orchestral works
>
Choral & Vocal works
Photo: © Alfred Eisenstaedt
> News Search
Email Newsletters
Sign up for news updates and offers via email
SIGN UP
ONLINE SCORES