Leonard Bernstein's Serenade at American Ballet Theatre
(April 2016)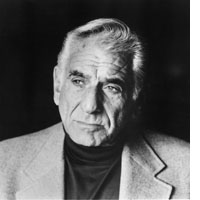 Bernstein's beloved work for violin and orchestra is the musical draw at American Ballet Theatre this spring.
Leonard Bernstein's
Serenade
for solo violin, harp, percussion, and strings (1954) has attracted the world's best violinists to its innately lyrical and idiomatic characteristics, a quality in its composition that only Bernstein's singular voice could provide. For years it has seen life as a successful ballet work; versions by Boston Ballet, the Martha Graham Dance Company, the Royal Ballet Flanders, and even American Ballet Theatre (which premiered the work in its incarnation as a dance piece in 1959). American Ballet Theatre returns to Bernstein's
Serenade
with new choreography by ABT Artist-in-Residence Alexei Ratmansky and designs by Richard Hudson.


Serenade
was inspired by the narrative structure of Plato's
Symposium
. Bernstein writes: "There is no literal program for this serenade, despite the fact that it resulted from a rereading of Plato's charming dialogue,
The Symposium
. The music, like the dialogue, is a series of related statements in praise of love, and generally follows the Platonic form through the succession of speakers at the banquet. The 'relatedness' of the movements does not depend on common thematic material, but rather on a system whereby each movement evolves out of elements in the preceding one."
American Ballet Theatre performs this newly choreographed version of
Serenade
16–21 May at the Metropolitan Opera House in New York City.
In addition to these performances, concert events continue to fill out the latter half of the 2015–16 season. Violinist Jennifer Koh performs
Serenade
with Juraj Valcuha and the Euskadi Orchestra this June in Spain. Anne Akiko Meyers new album,
Serenade: The Love Album
, featuring the eponymously titled work, has continued to see a healthy listenership since its release in September 2015. (
Click here
to listen to an excerpt.)
> Further information on Work: Serenade (after Plato's 'Symposium')
Photo Courtesy Deutsche Grammophon
> News Search
Mailing List
Sign up for news updates and offers via email
SIGN UP
ONLINE SCORES