Louis Andriessen: reviews of Theatre of the World
(September 2016)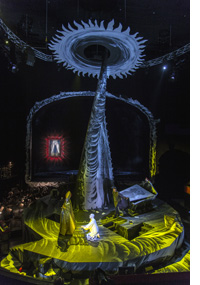 Theatre of the World, Louis Andriessen's startling new stagework exploring the labyrinthine interests of an 18th century polymath, was premiered in Los Angeles in May, travelling on to the Holland Festival in June.
Louis Andriessen
's new stagework,
Theatre of the World
, subtitled by the composer as 'a grotesque in nine scenes' with libretto by Helmut Krausser, received first performances in Los Angeles in May and Amsterdam in June. Leading Andriessen exponent Reinbert de Leeuw conducted the Los Angeles Philharmonic at Disney Hall and the Schoenberg|Asko Ensemble at the Holland Festival, with staging by Pierre Audi and video by the Quay Brothers.
"…a dizzying work that's vast in its scope yet unnervingly claustrophobic. Musically, it is brilliant and deep… Andriessen is the great argumentative opera composer of our day. He argues with every convention of the lyric stage. He is, moreover, a master of operatic argument, which is the traditional term for plot in not just its narrative sense but also its moral, spiritual, political and temporal implications. He is a clear-eyed Dutch sceptic and humanist who surfs the alarmingly narrow arteries that separate life from death, wisdom from belief, the known from the unknown... Andriessen's music compels from start to finish."
Los Angeles Times


"
Theatre of the World
is built around the life and multifaceted achievements of the 18th-century Jesuit Athanasius Kircher, who was once called the 'last man who knew everything'… The opera takes the aged Kircher on a time-travelling journey back through the important events of his life, on which he is guided by a boy who may be an angel or an apprentice devil, even perhaps a reincarnation of the scholar himself as a young man…
"…as Andriessen's gleefully eclectic score underlines, it's all much more than an operatic biopic. There are elements of allusiveness and surreal fantasy to Kircher's adventures and encounters, which seem to take place in a Bosch-like world of grotesques, with a trio of witches, damned Dante-esque lovers and an axe-wielding executioner. This not only recalls Andriessen's exuberant treatment of the
Divine Comedy
in his preceding stage work,
La Commedia
, but goes right back in some respects to his first theatre piece,
De Materie
.
Opera


"The intensely committed performances make every detail of Andriessen's fabulously assured score count. His pungent reedy soundworld is darker than usual, but its striding, jazzy ostinatos, sweet-sour chorales and early music vocal writing, as well as the lightning-quick references to a range of other musical styles, are as instantly identifiable and exhilarating as ever."
The Guardian


"The mystical Mexican poet Sor Juana Inés de la Cruz, who knew Kircher's work, is here an angelic presence high above the stage, the object of his long-distance adoration. Sung beautifully by Cristina Zavalloni, she gets the pure, high lines that have long been a fixture of Mr. Andriessen's medieval-flavored writing for voices."
New York Times
> Further information on Work: Theatre of the World
Photo: Ruth Walz
> News Search
Email Newsletters
Sign up for news updates and offers via email
SIGN UP
ONLINE SCORES