MacMillan's Stabat mater live streamed from Vatican
(March 2018)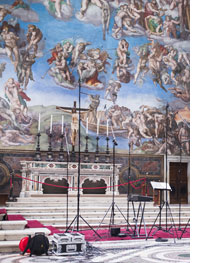 James MacMillan's Stabat mater is the first work to be live streamed from the Sistine Chapel, performed on 22 April by The Sixteen and Britten Sinfonia under Harry Christophers.
The much admired
Stabat mater
by
James MacMillan
will make history on 22 April, when it becomes the first work to be live video streamed from the Sistine Chapel in the Vatican. Commissioned by the Genesis Foundation, the 55-minute work will be performed, as at its 2016 premiere and on the acclaimed CORO recording, by The Sixteen and strings of the Britten Sinfonia conducted by Harry Christophers.
Available for one month on Classic FM's website, the concert is a rare honour, bestowed on the Genesis Foundation, as few performances are given in the Sistine Chapel and even fewer are given by ensembles not based in the Vatican. The Sixteen will become the first professional British choir to sing there in over 20 years.
Since its premiere, MacMillan's
Stabat mater
has toured in England and received performances in Scotland and the Netherlands. The composer is particularly acclaimed for his choral works which range from full-scale settings with orchestra, such as
Stabat Mater
,
Seven Last Words from the Cross
,
Quickening,
St John Passion
,
St Luke Passion
and
A European Requiem
, through unaccompanied works sung by the world's leading chamber choirs including
Miserere
and
Tenebrae Responsories
, to simple settings sung by church choirs such as the motet
O Radiant Dawn
.
In his
Stabat mater
MacMillan followed such composers as Pergolesi, Rossini, Dvorák, Szymanowski and Poulenc in setting the stark and searing 13th-century liturgical text, which meditates on the suffering of Mary standing at the foot of the Cross. It is therefore especially apt that the Vatican performance will take place just three weeks after Easter, on Sunday 22 April.
John Studzinski
, Founder and Chairman of the Genesis Foundation says:
"I'm delighted that many hundreds of thousands of people will experience James'
Stabat mater
direct from the Sistine Chapel. It is rare for a new, hour-long work of sacred music to move audiences across the world as soon as it has been premiered, but James MacMillan's
Stabat mater
is that rarity. A masterpiece, it has instantly connected audiences to the timeless story of Mary's suffering as she observed the suffering and death of her son Jesus and simultaneously rose to become the Mother of Mankind.
"All of us at the Genesis Foundation have been touched by the way people have reacted so powerfully to the
Stabat mater
. To join our long-term collaborators, Harry Christophers and The Sixteen, in bringing this great work to one of the world's most sacred sites will be an unforgettable experience, and the performance will reaffirm music's capacity to reinforce the spiritual power of words. I wish to extend my thanks to the Papal Household for its gracious permission in permitting this performance to take place in the Sistine Chapel, and to Cardinal Vincent Nichols, Archbishop of Westminster, for his commitment to this entire undertaking."
Cardinal Vincent Nichols
, Archbishop of Westminster says:
"The Stabat Mater is a remarkable prayer. It expresses a burning desire for a share in the sufferings of Mary and Jesus. In this it stands in sharp contrast to our contemporary reaction to suffering, which is to flee whilst tossing blame over our shoulder. But this prayer begs for an active share in this suffering. It cries out a willingness, out of love, to stand by those who are suffering, taking their pain into our hearts. It is, radically and remarkably, a mother's prayer. The composition of James McMillan powerfully explores the intensity and drama of this prayer. Its performance in the Sistine Chapel will be an experience never to be forgotten."
Harry Christophers
, Founder and Conductor of The Sixteen, commented:
"James digs deep underneath the surface of this 13th century Marian hymn meditating on Mary's suffering as she stands at the foot of the cross. He speaks of 'a painful world of loss, violence and spiritual desolation' and the score is packed to the full with those intense feelings. We are so grateful to John Studzinski and the Genesis Foundation for its support and cannot wait to perform this masterpiece in the Sistine Chapel."
The
Stabat mater
marked the culmination of a project run by the Genesis Foundation over a period of three years, Stabat mater: Spirit, Strength & Sorrow. James MacMillan and Harry Christophers had already mentored three outstanding young composers – Alissa Firsova, Tõnu Kõrvits and Matthew Martin – as they prepared their own, a cappella choral settings of the Stabat mater, premiered at LSO St Luke's in London in June 2014 and subsequently recorded for the CORO label. Genesis Foundation commissions prior to Stabat mater: Spirit, Strength & Sorrow include choral works by British composers Ruth Byrchmore, Roxanna Panufnik, Will Todd, Tarik O'Regan and Roderick Williams.
For more information on the Sistine Chapel performance of
Stabat Mater
please contact Simon Millward at Albion Media,
simon@albion-media.com
. 07990-507-310.
Notes to Editors

· Genesis Foundation


Established by John Studzinski in 2001, the Genesis Foundation works in partnership with the leaders of prestigious UK arts organisations such as LAMDA, the National Theatre, Royal Court, The Sixteen and the Young Vic. Its largest funding commitment is to programmes that support directors, playwrights, actors and musicians in the early stages of their professional lives. Genesis Sixteen, the UK's first fully funded programme of its kind, nurtures the next generation of talented choral ensemble singers. Now in its seventh year, Genesis Sixteen has provided training for more than 100 18-23 year olds.
The theme of art & faith increasingly characterises aspects of the Foundation's work with choral commissions and the sponsorship of the British Museum's current Living with Gods exhibition (Nov 2017-April 2018). Harry Christophers and The Sixteen have performed and recorded the Genesis Foundation's sacred music commissions these past ten years including its most recent commission, James MacMillan's
Stabat mater
, premiered in Autumn 2016.
· John Studzinski CBE

John Studzinski, Founder & Chairman of the Genesis Foundation,
is an American-born British investment banker and philanthropist. He is Vice Chairman of Investor Relations and Business Development at The Blackstone Group. He is also a Senior Managing Director of Blackstone. Mr Studzinski joined Blackstone in 2006 as Global Head of Blackstone Advisory Partners, which he ran for nearly a decade.
A graduate of Bowdoin College, he also has an MBA from the University of Chicago. He joined Morgan Stanley in New York in 1980 and since then has spent much of his career in London, where he served as Head of European Investment Banking and Deputy Chairman of Morgan Stanley International before moving to HSBC in 2003 as a member of the Group Management Board.
Mr Studzinski is a Non-Executive Director of the Home Office (UK) and has received the Prince of Wales Medal for Arts Philanthropy and the Prince of Wales Ambassador Award for his work with the homeless. He is Founder and Chairman of the Genesis Foundation, a UK-based charitable foundation that nurtures the careers of outstanding young artists, and Chairman of
Create London
. Mr. Studzinski serves on the U.S. boards of The J. Paul Getty Trust, Scholars at Risk, Tate Americas Foundation, Signature Theatre, and the Foundation for Art and Preservation in Embassies.
He is Director Emeritus of Human Rights Watch and is Co-founder and Chair of the
Arise Foundation
, which partners with local networks to stop human trafficking. Mr Studzinski is also a member of The Atlantic Council, The Council on Foreign Relations and The Peterson Institute.
Mr Studzinski holds the Papal honours of Knight of the Order of St. Gregory and Knight Commander of Saint Sylvester and in 2004 was awarded the Beacon Prize for Philanthropy. In 2007 Mr. Studzinski was voted Banker of the Year by The Bank of England. In 2008, the Queen's New Year's Honours List named him Commander of the British Empire (CBE) for services to the Arts and Charity.
In October 2017, John Studzinski was awarded the UK
Montblanc de la Culture Arts Patronage Award
for the Genesis Foundation's work in nurturing excellence among young artists.
· Sir James MacMillan CBE


James MacMillan is the pre-eminent Scottish composer of his generation. He first attracted attention with the acclaimed BBC Proms premiere of
The Confession of Isobel Gowdie
(1990). His percussion concerto
Veni, Veni Emmanuel
(1992) has received close to 500 performances worldwide by orchestras including London Symphony Orchestra, New York and Los Angeles Philharmonics and Cleveland Orchestra. Other major works include the cantata
Seven Last Words from the Cross
(1993),
Quickening
(1998) for soloists, children's choir, mixed choir and orchestra, the operas
Inès de Castro
(2001) and
The Sacrifice
(2005-06), and
St John Passion
(2007).
He was featured composer at Edinburgh Festival (1993), Southbank Centre (1997), BBC's Barbican Composer Weekend (2005) and Grafenegg Festival (2012). His interpreters include soloists Evelyn Glennie, Colin Currie, Jean-Yves Thibaudet and Vadim Repin, conductors Leonard Slatkin, Sir Andrew Davis, Marin Alsop and Donald Runnicles, and choreographer Christopher Wheeldon. His recordings can be found on BMG/RCA Red Seal, BIS, Chandos, Naxos, Hyperion, CORO, Linn and Challenge Classics.
Recent highlights include premieres of MacMillan's
St Luke Passion
,
Percussion Concerto No.2, A European Requiem
and
The Sun Danced
.
Visit
www.boosey.com/macmillan


· Harry Christophers CBE


Harry Christophers stands among today's great champions of choral music. In partnership with The Sixteen, he has set benchmark standards for the performance of everything from late medieval polyphony to important new works by contemporary composers.
Under his leadership The Sixteen has established its hugely successful annual
Choral Pilgrimage
, created the
Sacred Music
series for BBC television, and developed an acclaimed period-instrument orchestra. Highlights of their recent work include an Artist Residency at Wigmore Hall, a large-scale tour of Monteverdi's
Vespers of 1610
, and the world premiere of James MacMillan's
Stabat mater
; their future projects, meanwhile, comprise a new series devoted to Purcell and an ongoing survey of Handel's dramatic oratorios.
Harry Christophers has served as Artistic Director of the Handel and Haydn Society since 2008, is Principal Guest Conductor of the City of Granada Orchestra and has worked as guest conductor with, among others, the London Symphony Orchestra, the BBC Philharmonic, the San Francisco Symphony Orchestra and the Deutsches Kammerphilharmonie. Christophers' extensive commitment to opera has embraced productions for English National Opera and Lisbon Opera and work with the Granada, Buxton and Grange Park festivals.
· The Sixteen


Whether performing a simple medieval hymn or expressing the complex musical and emotional language of a contemporary choral composition, The Sixteen does so with qualities common to all great ensembles. Tonal warmth, rhythmic precision and immaculate intonation are clearly essential to the mix. But it is the courage and intensity with which The Sixteen makes music that speak above all to so many people.
The Sixteen gave its first concert in 1979 under the direction of Founder and Conductor Harry Christophers. Their pioneering work since has made a profound impact on the performance of choral music and attracted a large new audience, not least as 'The Voices of Classic FM' and through BBC television's
Sacred Music
series.
The voices and period-instrument players of The Sixteen are at home in over five centuries of music, a breadth reflected in their annual
Choral Pilgrimage
to Britain's great cathedrals and sacred spaces, regular appearances at the world's leading concert halls, and award-winning recordings for The Sixteen's CORO and other labels.
Recent highlights include the world premiere of James MacMillan's
Stabat mater
, commissioned for The Sixteen by the Genesis Foundation, an ambitious ongoing series of Handel oratorios, and a debut tour of China.
Visit
www.thesixteen.com
to find out more.
· Britten Sinfonia


Britten Sinfonia
is one of the world's most celebrated and pioneering ensembles, renowned for the quality of its performances and an intelligent approach to concert programming that is centred on the development of its players. Unusually it does not have a principal conductor or director but chooses to collaborate with a range of the finest international guest artists from across the musical spectrum as suited to each particular project.
Founded in 1992, the orchestra is inspired by the ethos of Benjamin Britten through world-class performances of the highest quality, illuminating and distinctive programmes where the old meets the new, and projects in the local community as well as in the world's finest halls. Britten Sinfonia is Associate Ensemble at London's Barbican Centre, Resident Orchestra at Saffron Hall, has long-standing residencies in Cambridge (where it is the University's Ensemble-in Residence) and Norwich and makes regular guest appearances at UK festivals including the BBC Proms. Its blossoming international profile has recently included acclaimed tours to India and China. Britten Sinfonia is a BBC Radio 3 broadcast partner, and records regularly for Harmonia Mundi and Hyperion.
Press comments on James MacMillan's Stabat mater, a Genesis Foundation commission

· World premiere, Barbican Centre, October 2016

The Times

"It's not often that the composer of a new work gets a standing ovation, but then every new work isn't like James MacMillan's
Stabat mater
for chorus and string orchestra."
Financial Times

"For MacMillan […] the text has a very different resonance. He speaks of a 'painful world of loss, violence, and spiritual desolation', and those are the intense feelings packed into his score."


The Guardian

"MacMillan's music has often been strongest when he brings all his forces closely together in pitch, so that the sound burgeons and the ear can't process where each detail is coming from. There is a lot of that here in this angry, affecting score."
The ArtsDesk

"[…] there were new sounds here, striking melodic ideas and […] a total integrity and depth in the way they were assimilated. To judge from the intense audience silence nearly throughout, many others must have felt the same."
The Catholic Herald

"Studzinski is one of London's great patrons of the arts."
· World premiere recording on The Sixteen's CORO label, COR16150


The Times
"Surely his choral masterpiece – and that's saying something… It's stunningly composed and also magnificently performed… under Harry Christophers's inspired direction."
Gramophone, Recording of the Month

"Christophers's adoration of MacMillan's
Stabat mater
radiates out of every moment of this compelling performance…
Posterity might well judge this to be a 21st-century masterpiece
; there is no question that this is a truly masterly recorded performance."
The Observer

"Wonderfully sung; profoundly moving."
BBC Radio 3 Record Review

"A magnificent achievement."


The Arts Desk

"A masterpiece."
Choir & Organ

"A word of thanks should be made to the Genesis Foundation for commissioning the piece for the Sixteen. Warmly recommended."
>
Listen to Stabat mater
>
Watch a short film about recording the Stabat mater
> Further information on Work: Stabat Mater
Photo: Sistine Chapel in the Vatican, from which MacMillan's Stabat mater will be live streamed on 22 April.
> News Search
Email Newsletters
Sign up for news updates and offers via email
SIGN UP
ONLINE SCORES