Magnus Lindberg: Feria at BBC Proms and on disc
(December 1997)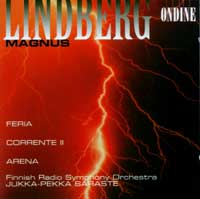 The new collaboration between
Magnus Lindberg
and Boosey & Hawkes was given an exciting launch on 11 August with the world premiere of
Feria
at the BBC Proms in London. The new work was commissioned by Finnish Radio for the Finnish Radio Symphony Orchestra and its Principal Conductor Jukka-Pekka Saraste, who are touring the work extensively around Europe this season. Saraste conducts the first US performance with the New York Philharmonic on 23 October.
Following the Proms premiere the orchestra took
Feria
back to Finland for performances in the Helsinki Festival and as part of its 70th birthday concert in Tampere. Lindberg himself conducts the work on 20 September at the Musica Festival in Strasbourg (see below), and a December tour by the Finnish RSO and Saraste visits Toulouse (8th), Luxembourg (11th), Brussels (12th) and Paris (15th). The work was also recorded this autumn by Ondine, whose close association with the composer has recently included a new disc of Lindberg's works played by Avanti (Ode 882).
Feria
not only demonstrates the vivacity of Lindberg's musical language, but also his skill at writing for what he labels "his favourite instrument", the orchestra. Compositionally, he has achieved a fascinating fusion of the seemingly opposed traditions of serialism and spectralism, while realising true physicality through dramatic gestures and virtuoso orchestration.
The word
Feria
is Spanish for an outdoor festival, fair or market, and Lindberg's new work incorporates a number of references to fanfares and public events, such as in the opening section with its answering trumpets heralding an outdoor spectacle, perhaps a Spanish bullfight. This is rhythmic, flamboyant music which is quite at variance with the smooth flow explored in many of his recent orchestral works, such as
Arena
. In the central section the pace of events slows, although, as ever with Lindberg, more hyperactive material bubbles to the surface. Amidst the constantly shifting orchestral perspectives a point of focus is reached with a chord progression from Monteverdi's celebrated
Lament of Arianna
, functioning in a similar fashion to the Purcellian allusions in
Corrente
. The composer has described how such a cross-reference arises out of a work's material, rather as if when viewing an essentially abstract painting a recognisable human face can suddenly appear. The fanfare calls return in the final section, with activity and density regathering from an interlude with solo piano towards full textures and broad brass statements.
"
Feria
's tight trumpet fanfares burst in with all the fiesta energy of its Spanish title... With a dozen performances and a recording ahead,
Feria
has a bright future."
The Times
"Lindberg's orchestration is a marvel: busy, highly coloured, but always clear. He freezes time with sustained harmonies that harbour all kinds of micro-activity."
The Telegraph
> Further information on Work: Feria
> News Search
Mailing List
Sign up for news updates and offers via email
SIGN UP
ONLINE SCORES