Magnus Lindberg: new residency announced with London Philharmonic Orchestra
(January 2014)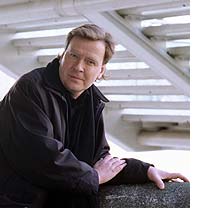 The London Philharmonic Orchestra has announced Magnus Lindberg as its new Composer in Residence
Finnish composer Magnus Lindberg (b.1958) is the London Philharmonic Orchestra's new Composer in Residence, for three years effective from the start of the 2014/15 season. During the opening year of the residency all performances of Lindberg's works will be conducted by Vladimir Jurowski, the orchestra's Principal Conductor. The appointment demonstrates the LPO's continuing commitment to contemporary music, following the orchestra's devotion of the whole of 2013 to music of the 20th century in The Rest Is Noise series at the Southbank Centre. Lindberg follows Mark-Anthony Turnage and Julian Anderson as the LPO's resident composer.

The new residency is launched with Lindberg's orchestral work Chorale in the LPO's concert on 24 September to open its 2014/15 season at the Southbank Centre. This is followed on 28 January 2015 by a new Lindberg work for soprano and orchestra, commissioned by the LPO and specially written for Barbara Hannigan. Next season also includes the UK premiere of Lindberg's Piano Concerto No.2 on 21 March 2015, with soloist Yefim Bronfman who has played the work extensively since its premiere in New York in 2012, with performances this season in Amsterdam, Tokyo, Taipei and Toronto. Further new Lindberg works for the LPO follow in future seasons.

Magnus Lindberg will also be actively involved with the LPO's Foyle Future Firsts programme for student players. The relationship will be launched on 24 September when he conducts them in the London premiere of his Souvenir at a 6.00 pm event, preceding the LPO's first autumn season concert that evening. He will also mentor four fledgling professionals selected to work with him on the Leverhulme Young Composers scheme. Lindberg conducts the world premieres of their works with the LPO's Foyle Future Firsts student players in the Debut Sounds concert at the Queen Elizabeth Hall on 10 June 2015.

Lindberg's earlier composer residences reflect his international stature, including the Royal Flanders Philharmonic (1999), Casa da Musica Porto (2008), New York Philharmonic (2009-12), and SWR Radio Symphony Orchestra Stuttgart (2011-12). Lindberg's music was the subject of an international festival, Related Rocks, conducted by Esa-Pekka Salonen in London, Paris and Brussels (2001/02). Lindberg has enjoyed a special relationship with London, with works regularly programmed and commissioned by the city's leading performing organisations, including the London Sinfonietta, Philharmonia Orchestra, BBC Symphony Orchestra and London Philharmonic Orchestra.

Lindberg's recent output includes four works premiered by the New York Philharmonic: EXPO (2009), Al largo (2010, co-commissioned by the LPO), Souvenir (2010) and Piano Concerto No.2 (2012). Seht die Sonne (2007) was commissioned by the Berliner Philharmoniker under Simon Rattle and the San Francisco Symphony, his first choral-orchestral work GRAFFITI was premiered by the Finnish Radio Symphony Orchestra (2009), and Era (2012) was composed for the Royal Concertgebouw in Amsterdam to celebrate the 125th anniversary of both hall and orchestra.
> Further information on Work: Piano Concerto No.2
Photo: Hanya Chlala/ArenaPAL
> News Search
Mailing List
Sign up for news updates and offers via email
SIGN UP
ONLINE SCORES