Magnus Lindberg's two violin concertos in London
(November 2015)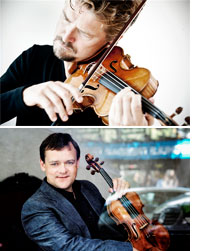 Two great violinists, Christian Tetzlaff and Frank Peter Zimmermann, play Magnus Lindberg's two concertos this autumn as part of his London Philharmonic Orchestra residency.
Magnus Lindberg's two violin concertos, the first with chamber orchestra and the new second concerto with full orchestra, are both performed by the London Philharmonic Orchestra this autumn as part of the composer's ongoing residency.
Violin Concerto No.1
is played by Christian Tetzlaff on 11 November, and the world premiere of
Violin Concerto No.2
is given by Frank Peter Zimmermann on 9 December, both at the Royal Festival Hall in London, conducted by Robin Ticciati and Jaap van Zweden. Christian Tetzlaff also performs
Violin Concerto No.1
with the BBC Philharmonic at Bridgewater Hall in Manchester on 7 November under the baton of John Storgårds.
Violin Concerto No.1
was composed in 2006 for the Mostly Mozart festival at New York's Lincoln Center and employs a classical-sized orchestra with two oboes, bassoons and horns plus strings. The premiere was given by Lisa Batiashvili who went on to perform the work 20 times and to record it for Sony. Other soloists to take up the work include Pekka Kuusisto who made a second recording for Ondine as both soloist and conductor, Jack Liebeck, Renaud Capuçon, Patricia Kopatchinskaja and Christian Tetzlaff.
The new
Violin Concerto No.2
was commissioned by the London Philharmonic Orchestra, Berliner Philharmoniker, Swedish Radio Symphony Orchestra, Radio France and New York Philharmonic. Following the world premiere in London on 9 December, Frank Peter Zimmermann travels with the work for performances at Lincoln Center in New York on 14-16 January, the Philharmonie in Berlin on 21-23 January, the Berwaldhallen in Stockholm on 28-29 January and the Philharmonie in Paris on 19 February. Alan Gilbert conducts the New York Philharmonic and Orchestre Philharmonique de Radio France, and Daniel Harding the Berlin Philharmonic and Swedish Radio Symphony Orchestra.
Magnus Lindberg has commented on his fascination with writing for the violin as 'the king of instruments' and how he is happy to return to compose for it again: "I'm not as cautious as some about returning for a second concerto. In the second half of the 20th century it seemed that composers wrote one definitive concerto for an instrument and then moved on, but if you look further back, composers like Bartók and Prokofieff were happy to return and come up with new solutions for the same instrument. I'm with them because I'm particularly drawn to the great instruments such as piano, violin and cello. The second violin concerto certainly has bigger forces than the first. I've been careful in the new work because I know the difficulties of balancing, though hearing a violin thankfully isn't such a challenge as a cello. I've avoided an oversize orchestra, following the Bartók model with only double woodwind. This should be light enough while still allowing me plenty of flesh around the chords."
>
Read the full interview with Magnus Lindberg
In addition to first performances of
Violin Concerto No.2
, highlights for Magnus Lindberg this season have included the world premiere of a new concert-opener
Vivo
by the New York Philharmonic and Alan Gilbert on 7 October, commissioned by Carnegie Hall to launch its opening night gala concert. A special Lindberg feature in Paris brings three French premieres programmed by the Orchestre Philharmonique de Radio France with
Cello Concerto No.2
and
GRAFFITI
conducted by Mikko Franck joining the new violin concerto under the baton of Alan Gilbert.
> Further information on Work: Violin Concerto No.2
Photo: violinists Christian Tetzlaff and Frank Peter Zimmermann (Giorgia Bertazzi, Harald Hoffmann/Hänssler Classik)
> News Search
Mailing List
Sign up for news updates and offers via email
SIGN UP
ONLINE SCORES