Mark Simpson premieres Darkness Moves online
(October 2016)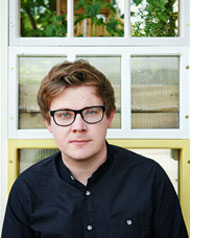 Darkness Moves, Mark Simpson's new solo clarinet work commissioned by the Borletti-Buitoni Trust, is premiered online on 25 October with the composer as soloist.
Mark Simpson
is not only one of today's most celebrated young composers, but also an acclaimed clarinettist and performer - and the Borletti-Buitoni Trust (BBT) is all set to reinforce the virtuosity of his dual career. As part of his 2014 BBT Fellowship, the Trust has commissioned Mark's first ever work for solo clarinet, composed on his instrument, for himself. He recorded and filmed the piece,
Darkness Moves
, in August this year and the performance will be aired online on 25th October 2016, billed as the world premiere. An interview with Mark Simpson will feature alongside the recital.
The short work is brimful of contrasting material with a range of melodic passages, wild gestures and outbursts of sound in which the clarinet takes on otherworldly guises. An anthology of psychedelic poetry titled Darkness Moves, compiled by David Ball and written by Belgian writer Henri Michaux, inspired Mark to create a work of 'fluid darkness' and ambiguity that is, even so, euphoric and effervescent.
Mark has never written for solo clarinet before and admits that this work fully exploits his own technical capabilities and his ardent exploration of a new clarinet in A made by Peter Eaton. His other two chamber works for clarinet and piano,
Lov(escape)
(2006) and
Echoes and Embers
(2012), both feature on his NMC disc
Night Music
, released in May 2016. Mark's initiative to premiere the work online came from wanting to make the work as widely accessible as possible; "Classical musicians have to not only be aware of today's technology and possibilities, but also actually engage with these digital interfaces." The performance is filmed in tight close-up, revealing the extraordinary energy and virtuosity the work requires and will potentially engage audiences in a way that no ordinary recital could.
The clarinet playing score will be available on sale as a sheet download from the
Boosey & Hawkes Digital Music Store
to coincide with the premiere.
Mark has dedicated
Darkness Moves
to BBT founders Ilaria Borletti Buitoni and Franco Buitoni (an especially poignant tribute to Franco Buitoni who sadly passed away in August this year).
>
www.bbtrust.com
>
www.marksimpsonmusic.com
> Further information on Work: Darkness Moves
Photo: Kaupo Kikkas
> News Search
Email Newsletters
Sign up for news updates and offers via email
SIGN UP
ONLINE SCORES