Meredith Monk: Preview of Cellular Songs
(June 2017)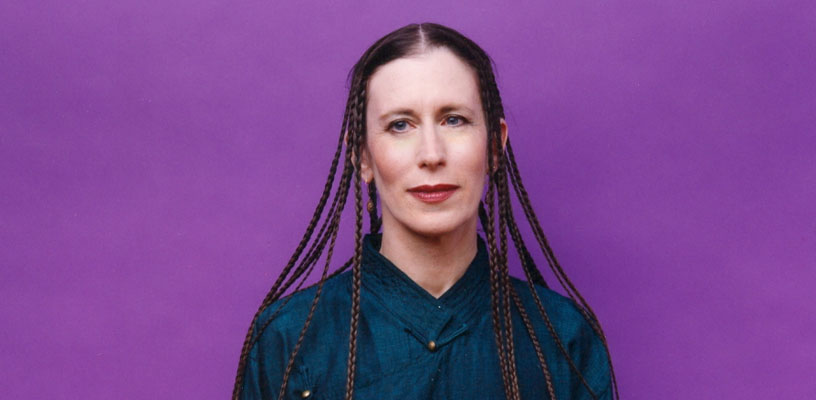 Meredith Monk, joined by four vocalists from her Ensemble, presents Cellular Songs, a musical theater work-in-progress. The work draws its inspiration from human cell activity and explores our interdependence with the natural world.
On June 8–10 at Queenslab, New Yorkers had a rare chance to view a work-in-progress by Meredith Monk: Cellular Songs is Monk's latest work in a series of music theater pieces that draws its inspiration from the natural sciences (following the celebrated On Behalf of Nature, which examined the precarious state of our global ecology). Joined by an all-woman cast of vocalists—Ellen Fisher, Katie Geissinger, Allison Sniffin, and Jo Stewart from her acclaimed Vocal Ensemble—Monk has woven together her vocal music with movement, theatrical images, lighting design, and instrumental music.

Cellular Songs turns its focus inward to the microscopic level, drawing inspiration from human cell activity such as layering, replication, rotation, division, and mutation—simultaneously, the work explores the larger picture codependence of the human condition with the nature surrounding it, while conjuring cycles of birth and death throughout.

Having gradually developed Cellular Songs over the past year and a half, Monk invited the public to view the process of creating a new work in its raw stages. In doing so, the event created an intimate setting for audiences and her performers to explore the developing work. The lighting, costume, and sound design elements continue to be in progress, and there are plans to incorporate film into the work in the future. The completed theatre piece will be performed at a date to be announced in the near future.

Watch excerpts from rehearsals of Cellular Songs here:
https://www.youtube.com/watch?v=OTD27Qz_uA0
https://www.youtube.com/watch?v=YQD4rxS2c5Q

The first evening, June 8, of the three performances also served as a benefit co-hosted by artist Jim Hodges and designer Isaac Mizrahi to support The House Foundation in its continued dedication to Monk's work. Cellular Songs is supported in part by the National Endowment for the Arts, New York State Council on the Arts, the NYC Department of Cultural Affairs, the Goodale Family Foundation, and The Nathan Cummings Foundation.
Photo: Jessie Froman

Boosey & Hawkes Composer News