Michel van der Aa: US premiere of Sunken Garden
(May 2018)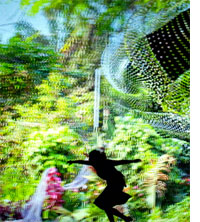 Michel van der Aa's US premieres in recent months have included his 3D opera Sunken Garden at Dallas Opera and the Violin Concerto with the Philadelphia Orchestra
Michel van der Aa
has enjoyed a series of prestigious premieres in the USA over the past season, spreading increased awareness of his music in North America. His 3D chamber opera
Blank Out
was staged to acclaim at the Park Avenue Armory in New York last September and March brought the US premieres of
Sunken Garden
at Dallas Opera and of the
Violin Concerto
with Janine Jansen and the Philadelphia Orchestra under Yannick Nézet-Séguin.
As the
Dallas News
summed it up, "
Sunken Garden
takes opera into new dimensions – literally", with the characters on stage and the audience donning 3D glasses at the midpoint of the opera to enter a sinister garden that is being used to trap souls. The libretto by David Mitchell blends mystery and sci-fi to further explore the key existential themes familiar from his novels such as
Cloud Atlas
. The Dallas production followed full stagings in London, Amsterdam and Lyon, and performances in Amsterdam and Essen of a semi-staged version for concert halls which combines the 2D and 3D film with a simplified set.
"In
Sunken Garden
, van der Aa moved outside the boundaries of opera to create a fantasy world where the difficult questions of life cannot be escaped… The most prominent examples concern guilt, sorrow, and the choice between an authentic life and a virtual one… David Mitchell's image of dusk as the place between light and dark, life and death was especially powerful… This dense story is filled with symbolism and allegory."
Dallas Observer


Van der Aa's
Violin Concerto
, performed in Philadelphia and toured to Carnegie Hall in New York, was described in the Philadelphia Enquirer as a "gleefully rambunctious concerto which freely explores gestures with collage-like interplay…. The excellent final movement shows the composer using the kind of perpetual-motion rhythms that are so effective in
Sunken Garden
". Janine Jansen's performances followed those in Amsterdam, Essen, Bergen and a recording with the Royal Concertgebouw Orchestra under Vladimir Jurowski.
"As in most concertos, Mr. van der Aa's solo writing demands extreme virtuosity, which, of course, the charismatic Ms. Jansen dispatches with athletic ease. But the orchestra is less an accompanist or combatant than a full collaborator in a kind of shifting synergy – now taking its cues and motivic material from the soloist, now driving the soloist to greater heights of passionate expression."
New York Times
> Further information on Work: Sunken Garden
Photo: Michel van der Aa's production of Sunken Garden
> News Search
Email Newsletters
Sign up for news updates and offers via email
SIGN UP
ONLINE SCORES