Michel van der Aa in Helsinki for Musica Nova festival
(November 2016)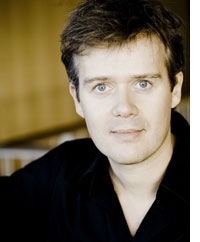 Helsinki's Musica Nova festival features the music of Michel van der Aa in January with Finnish premieres including his 3D opera Blank Out, travelling internationally since its first performance in March this year.
Michel van der Aa
travels to Finland in the New Year for a feature at the Music Nova festival (1-12 February), introducing three major works to Helsinki audiences. His 3D opera
Blank Out
will receive three performances as a collaboration between Musica Nova and the Finnish National Opera (4/6/8 February). Soprano Katherine Manley appears on stage, accompanied on film by baritone Roderick Williams and on the work's electronic soundtrack by the Netherlands Chamber Choir.
Blank Out
is based upon the life and work of Ingrid Jonker, the South African poet who wrote against the apartheid regime, but whose traumatic and troubled life led to her suicide at 31 in the sea off Cape Town.
Blank Out
uses the intersection of live action, 3D video and electronic music to explore the nature of memory and the effects of trauma. Premiered at the Dutch National Opera in March this year, the work was hailed as "a wonderfully fluent and effective piece of music theatre (
The Guardian
), and has since been staged at the Rome Opera's Fast Forward Festival and the Beijing Festival, with its German, Swiss and US premieres following in 2017.
Also receiving its Finnish premiere in Helsinki is van der Aa's
Spaces of Blank
for mezzo and orchestra, featuring soloist Nora Fischer and the Finnish Radio Symphony Orchestra conducted by André de Ridder in the festival's opening concert (1 February). Kari Krikku is the virtuosic soloist in van der Aa's clarinet concerto
Hysteresis
, exploring the effect of memory on material, as the aural perspective shifts between live sound and electronics (9 February). Krikku is joined by the Tapiola Sinfonietta conducted by Mario Venzago.
>
Musica Nova festival
2017 highlights for van der Aa include the world premiere of a new ballet,
Reversal
, choreographed for the German Youth Ballet by Andrey Kaydanowskiy, with six performances on a German tour (12-20 January). Summer brings a major feature at the Lucerne Festival including Swiss premieres of his Pessoa-inspired music theatre work
The Book of Disquiet
,
Blank Out
, the Grawemeyer Award-winning
Up-close
and
Hysteresis
. The focus shifts across the Atlantic in the 2017/18 season including US premieres of
Blank Out
at the Park Avenue Armory in New York (21-25 September) and
Sunken Garden
at Dallas Opera (March 2018).
> Further information on Work: Blank Out
Photo: Marco Borggreve
> News Search
Email Newsletters
Sign up for news updates and offers via email
SIGN UP
ONLINE SCORES