Michel van der Aa's The Book of Disquiet in the US and UK
(December 2015)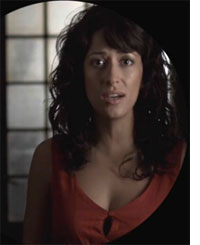 Seeing an increasing number of international performances, the fast-rising Dutch composer catches the ears of America and the UK.
Peak Performances, the intrepid arts presenter at Montclair State University in New Jersey, has championed the works of internationally acclaimed artists since its inception in 2005. After showcasing the visceral music of composers like David T. Little (
Dog Days
), Peak Performances continues its commitment to new music by presenting the US premiere of Michel van der Aa's
The Book of Disquiet
(21–24 January). After the performances at Montclair State University,
The Book of Disquiet
heads to the Coronet Theatre in London for its UK premiere 24–25 February, featuring the London Sinfonietta.
(For US event information,
click here
. For UK event information,
click here
.)
Composed in 2008,
The Book of Disquiet
is a music theatre work for actor, ensemble, and film, featuring a libretto after Portuguese poet and writer Fernando Pessoa, adapted by the composer. The work is built on a collection of fragmentary texts, diary entries, and autobiographical anecdotes only published fifty years after the death of Pessoa. It was assembled from loose sheets of paper, found in a box trunk on his death. Michel van der Aa narrowed down the texts through a process of selection in order to create a piece that could exist in 'real' time in the theatre. A series of recurring themes group the fragments by subject matter — for instance, isolation, love, or dreams. There are realistic scenes with the alter-egos of Bernardo Soares, but also scenes that are much more abstract, drawing upon entries found in the book to create a more dreamlike mise-en-scène. The video switches between imagery that literally extends the physical events on stage, and more surreal scenes that delve deeper into the mind of the protagonist.
Speaking to Pessoa's technique of writing through a series of alter-egos, Van der Aa says, "Pessoa often casts himself in a series of distinct characters, 'heteronyms' as he calls them, both male and female. I was intrigued by the idea that the sum of these doubles could provide a total representation of the poet. This gave me the scope for the video element of the piece: the actor on stage represents the central character of
The Book of Disquiet
, the Lisbon bookkeeper Bernardo Soares, but he is also seen on the video as himself and as a series of alter-egos acted by three men and one woman. The drama is his coming to terms with his identity."
To read the full interview with Michel van der Aa,
click here
.
These upcoming performances of
The Book of Disquiet
feature British actor Samuel West in the main role and musical direction by Alan Pierson (in the US) and Joana Carneiro (in the UK). Running approximately 75 minutes in duration,
The Book of Disquiet
was originally commissioned by Linz 2009 and Zaterdag Matinee Amsterdam, with additional funding from Casa da Musica.
> Further information on Work: The Book of Disquiet
Photo: fado singer Ana Moura on film in The Book of Disquiet
> News Search
Mailing List
Sign up for news updates and offers via email
SIGN UP
ONLINE SCORES