Minimalist dance classics by Reich and Adams visit UK
(June 2017)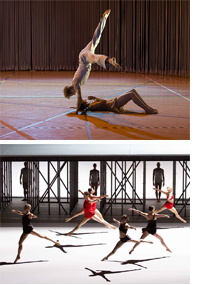 The coming months see the return of two minimalist dance classics to the UK with music by Steve Reich and John Adams: Anne Teresa De Keersmaeker's Rain and Lucinda Childs' Available Light.
The works of composers
Steve Reich
and
John Adams
have long been favourites with choreographers and two classic danceworks visit the UK in the coming months. ROSAS brings Anne Teresa De Keersmaeker's
Rain
, set to Steve Reich's
Music for 18 Musicians
, to Sadler's Wells Theatre in London on 13 and 14 June, performed with the Ictus Ensemble, and to the Edinburgh International Festival on 25-27 August. The Lucinda Childs Company presents
Available Light
, set to John Adams's
Light over Water
and with stage designs by Frank Gehry, at the Manchester International Festival on 6-8 July.
With
Rain
, Anne Teresa De Keersmaeker's returned in 2001 to two of her great loves: pure dance and the minimalistic music of Steve Reich. Accompanied by the pulsating tones of his music, for an hour and ten minutes ten dancers occupy the stage, delineated by a curtain of fine strings, displaying an impressive succession of virtuoso dance phrases. The mathematical figures, the sustained repetition, the geometric occupation of the space, the art of continuous variation – everything that had gradually become the choreographer's signature was pushed to the extreme in
Rain
.
In
Rain
, De Keersmaeker approaches the company of dancers as a close-knit group of pronounced individuals who, one by one, play a vital role in the whole. Seven women and three men allow themselves to be propelled by an unstoppable joined energy that binds them together. It's a bustling network in which breath and speed is shared as well as that special comradery that forms when you are beyond fatigue.
Further performances of
Rain
with
Music for 18 Musicians
are scheduled by ROSAS in the 2017/18 season at the Festival de Otoño in Madrid and in Ludwigshafen, together with French dates in Nîmes, Valenciennes, Le Havre and Strasbourg and Belgian dates in Aalst, Namur and Heist-op-den-berg. Other De Keersmaeker ballets set to music by Reich include
Drumming
, danced by the Paris Opéra Ballet with live musicians between 1 and 15 July.
>
Rain at Sadler's Wells, London
>
Rain at Edinburgh International Festival
Available Light
brings together three giants of postwar American culture: choreographer Lucinda Childs, composer John Adams and architect Frank Gehry. This new production, revived for the 2015/16 season takes the trio's striking collaboration, first staged in 1983, to a new generation of audiences. The newly remounted dancework has been seen in Berkeley, Philadelphia, Los Angeles, New York, Athens, Berlin, Hamburg, St Pölten and Paris.
Available Light
beautifully unites the distinct visions of its three creators. Gehry's designs playfully subvert convention, setting a backdrop of chain-link fencing against a stage split over two levels. Adams' hypnotic soundtrack pulses out in waves, subtly blending acoustic brass with synthesisers and electronics as it anchors the movements of a dozen dancers. And Childs' intricate, mesmerising choreography, playing with notions of space and time, is a brilliant distillation of the minimalist aesthetic that has long kept her work at the cutting edge. A perfect fusion of music, movement and art,
Available Light
is a landmark in American dance.
Other Lucinda Childs choreographies set to music by John Adams include
Chamber Symphony
(1994),
The Chairman Dances
(2000) and
Lollapalooza
(2010). In 2014 Childs staged a new production of Adams's opera
Doctor Atomic
for the Opera du Rhin.
>
Available Light at Manchester International Festival
> Further information on Work: Music for 18 Musicians
Photos: ROSAS / Lucinda Childs Company
> News Search
Email Newsletters
Sign up for news updates and offers via email
SIGN UP
ONLINE SCORES