Music by John Adams opens Call Me By Your Name
(February 2018)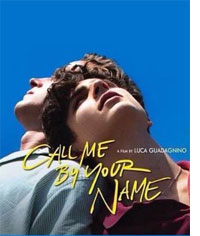 Movie director Luca Guadagnino returns to the music of John Adams in his critically acclaimed Call Me By Your Name, nominated for three Golden Globes and four Oscars including Best Picture.
Luca Guadagnino's coming-of-age romance,
Call Me By Your Name
, opens with the dancing, interlocking rhythms of
John Adams
's two piano work
Hallelujah Junction
underscoring the opening credits, marking the arrival of American doctoral student Oliver at the family villa of 17-year-old Elio and his scholarly parents for a langourous summer in Northern Italy. The meshing of music with emotional subtext, foretelling two equals embarking on a courting ritual, is typical of one of cinema's great modern-day sensualists and demonstrates the director's continuing love for the music of John Adams.
Call Me By Your Name
is the third film in a triptych by Guadagnino exploring aspects of desire.
I Am Love
(2009) starring Tilda Swinton, used existing music by Adams throughout the movie, and was followed by
A Bigger Splash
(2015) starring Ralph Fiennes, Swinton again, Matthias Schoenaerts and Dakota Johnson.
Call Me By Your Name
, based on the book by André Aciman, stars Timothée Chalamet - Oscar nominated for Best Leading Actor, Armie Hammer, Michael Stuhlbarg and Amira Casar. The sensitive and understated screenplay by James Ivory, of
Room with a View
,
Howard's End
and
The Remains of the Day
fame, won a BAFTA and was Oscar nominated for Best Adapted Screenplay.
Luca Guadagnino's self-confessed obsessive fascination with the music of John Adams dates back more than a decade to a birthday present from a Sony executive, a disc of the composer's symphonic magnum opus
Naive and Sentimental Music
, as he describes in an interview in
Pitchfork
:
"I put the disc in the CD player, and suddenly when those first notes,
dun dun dun
started, I immediately got completely kidnapped by the musical world of John Adams. Since that first epiphany, I started to dig in to him. I started to look for everything that I could find recorded by John Adams, and I became a sort of an encyclopedia of what he has done as a musician. John Adams comes to me constantly. I can say to you that really that moment in 2005 was transformative and changed my life as a director forever."
Piano music is central to
Call Me By Your Name
, inextricably linked to the lead character of Elio, himself a gifted pianist and arranger. In addition to the returning use of
Hallelujah Junction
, Guadagnino also employs Adams's solo piano works
Phrygian Gates
and
China Gates
, as well as Ravel's
Une barque sur l'océan
from
Miroirs
,
Le jardin féerique
from
Mother Goose
, and music by Bach, Satie and Sakamoto. This is complemented with period pop providing authenticity for the 1980s setting, and heart-aching new songs written by Sufjan Stevens, including the Oscar nominated
Mystery of Love
.
Guadagnino explains in
Pitchfork
how he has an instinctual relationship with piano music, searching for the piece to provide the perfect mood: "It's a dialogue. In fact, in
Call Me By Your Name
, we have extensive usage of piano because those notes, in a way, are the interior and exterior dialogue between Elio and himself, and Elio and Oliver."
>
Read the full interview in Pitchfork
"Music is intrinsic to
Call Me By Your Name
, both as a key plot/character point and in its varied use on the soundtrack. Right from the moment when John Adams's
Hallelujah Junction
jolts the opening credits with an infectious burst of pianistic energy, we have a sense that Guadagnino's ear will be almost as crucial to the action as his eye. Not only will
Hallelujah Junction
return to enliven the proceedings later on, Adams's
Phrygian Gates
makes a quizzical point and his
China Gates
contributes a sunny mood."
The Whole Note


Other movie usages of music by John Adams have included Martin Scorsese's
Shutter Island
(2010). Adams's opera
The Death of Klinghoffer
was filmed by Penny Woolcock for Channel 4 in 2003 and won the Prix Italia that year.
>
Listen to the soundtrack on Spotify
>
View the movie trailer
>
Visit the official website
> Further information on Work: Hallelujah Junction
Photo: Sony Pictures Classics
> News Search
Email Newsletters
Sign up for news updates and offers via email
SIGN UP
ONLINE SCORES