Nashville Symphony Premieres New Edgar Meyer Orchestral Work
(March 2017)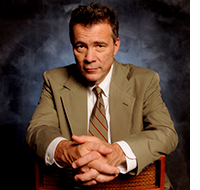 Edgar Meyer has composed his first orchestral work without a featured soloist, "New Piece for Orchestra." The work was commissioned by Nashville Symphony, a great champion of Meyer's works over the years.
Composer
Edgar Meyer
has recently completed a new commission for the Nashville Symphony: "New Piece for Orchestra" is his first orchestral work without a featured soloist. An accomplished bass virtuoso, Meyer's previous compositions for orchestra have often featured himself as soloist with the orchestra, or with renowned collaborators such as cellist Yo-Yo Ma and violinist Joshua Bell. But in this piece, Meyer treats the entire orchestra as the protagonist. Meyer states, "As the years have gone on, I found I was having the most fun when there was no soloist, when I wasn't part of the picture. It's been a lot of fun to conceive a piece for the orchestra without having to worry about the soloist."
The 18-minute work unfolds as a pair of interrelated movements of approximately the same length, which are bridged by a shorter interlude of contrasting material. "New Piece" does not rely on extra-musical inspiration, though Meyer adds: "I often envisioned the orchestra playing in concert. And I do not think of a section as happy or sad. The piece is conceived as an emotional journey, but not one that I can put in words."
Meyer has a long and rich history with the Nashville Symphony: In addition to performing as a member of the ensemble in the early 1980s, he made his first solo appearance with the orchestra in 1986, performing Bottesini's Double Bass Concerto No. 2. In May 2013, Nashville Symphony performed his Double Concerto with Joshua Bell and the composer as soloists, with Giancarlo Guerrero as conductor. The orchestra also commissioned and performed the world premiere of his Triple Concerto (2006), featuring Meyer, banjo player Béla Fleck (a fellow Boosey & Hawkes composer), and tabla player Zakir Hussain as soloists with Leonard Slatkin as conductor. Meyer and Fleck also performed the world premiere of Meyer's Concerto for Double Bass and Banjo with Nashville Symphony and conductor Kenneth Schermerhorn in 2003.
Other recent Meyer compositions include the Double Concerto for Double Bass and Violin, which received its world premiere July 2012 with the Boston Symphony Orchestra and Joshua Bell at the Tanglewood Music Festival. During the 2011–2012 season, Meyer was composer-in-residence with the Alabama Symphony, where he premiered his third concerto for bass and orchestra. Meyer is currently at work on a new Violin Concerto for Bell and the Academy of St. Martin in the Fields, and is also planning a new recording project with jazz bassist Christian McBride.
> Further information on Work: New Piece for Orchestra
Photo: Jim McGuire
> News Search
Email Newsletters
Sign up for news updates and offers via email
SIGN UP
ONLINE SCORES