Neu bei Boosey & Hawkes: Kim André Arnesen
(September 2017)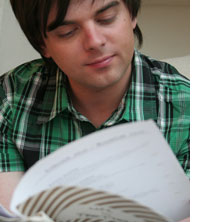 Der Komponist Kim André Arnesen hat mit Boosey & Hawkes einen Verlagsvertrag für sämtliche künftigen Werke abgeschlossen.
Als Chormusik-Spezialist erfreut Arnesen sich einer wachsenden Wertschätzung beiderseits des Atlantik – dank der Zugänglichkeit seines melodischen Stils und seiner reichen Ausdruckspalette. Zu seinen jüngsten Kompositionen zählt die Holy Spirit Mass für Chor, Klavier und Streicher, geschrieben für den National Lutheran Choir (Minnesota) zur Feier des 500. Jubiläums der Reformation; die Uraufführung findet am 22.10.2017 in Washington, D.C., statt, mit anschließenden Stationen in Minneapolis und St Paul.

Kim André Arnesen erklärt:
"Ich fühle mich sehr geehrte durch diese Verbindung mit Boosey & Hawkes – dem Verlag vieler unserer liebsten klassischen Werke. Meine erste Erinnerung an Boosey & Hawkes stammt aus meinen Kindertagen, als ich Chorknabe am Nidaros-Dom in Trondheim war. Wir hatten viele Noten mit dem B&H-Logo, und so lernte ich früh einige der Komponisten kennen, die ich bis heute sehr bewundere, wie Stanford, Britten und Bernstein. Auch bin ich begeistert, einem Verlag so vieler herausragender lebender Komponisten anzugehören. Ich empfinde das als eine wunderbare Chance und freue mich auf unsere künftige gemeinsame Arbeit an neuen Stücken und Publikationen."

Janis Susskind, Geschäftsführerin von Boosey & Hawkes London:
"Wir sind hocherfreut, mit Kim André Arnesen einen weiteren Neuzugang in unserer wachsenden Riege Chormusik-kundiger Komponisten zu begrüßen. Er ist ein herausragendes Beispiel für die Blüte kompositorischen Talents in den nordischen Ländern, und wir freuen uns darauf mitzuhelfen, dass rund um den Globus neue Möglichkeiten ins Leben gerufen werden, seine Musik zu hören."

1980 geboren und heute in Oslo ansässig, wuchs Arnesen in Trondheim auf, wo er im Chor des Nidaros-Doms sang und an der Musikhochschule studierte. Seine ersten Kompositionen entstanden für Aufführungen der Dom-Chöre, des St. Olav Festivals sowie für das preisgekrönte Fernseh-Special Christmas in Norway. Zu seinen Werken zählen ein Requiem, ein Magnificat, Kirchen- und Weihnachtslieder sowie weltliche Chorkompositionen.

In den USA erklang Arnesens Musik in der Carnegie Hall in Verbindung mit Distinguished Concerts International New York, beim St Olaf Choir in Minnesota, beim Oregon Bach Festival, für Präsident Barack Obama im Weißen Haus sowie in Minneapolis bei der diesjährigen nationalen Konferenz der American Choral Directors Association. Sein neuestes Album mit einer Sammlung von Stücken, die er als Residenz-Komponist des in Denver beheimateten Chor-Ensembles Kantorei schrieb, erscheint Anfang kommenden Jahres bei Naxos.

Zu den ersten Veröffentlichungen von Kim André Arnesen im Rahmen der neuen Verlagsvereinbarung gehört My flame the song für Chor und Klavier, zu hören auf dem aktuellen Audio-Sampler zur Reihe "Contemporary Choral Series" bei Boosey & Hawkes, siehe www.boosey.com/CCSsampler. Noch in diesem Herbst erscheinen Gift to Sing für Chor und Klavier und Ubi caritas et amor für Chor a cappella; für die nahe Zukunft geplant ist eine Ausgabe der neuen Holy Spirit Mass.

Bitte besuchen Sie auch www.kimarnesen.com.

Boosey & Hawkes Composer News