New B&H Publications at the 2016 Frankfurt Music Fair
(March 2016)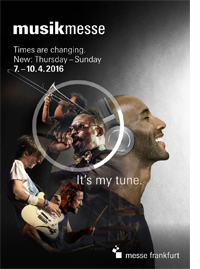 New releases from Boosey & Hawkes were showcased at the 2016 Frankfurt Music Fair (7-10 April) encompassing study scores, performance material, and the latest educational and leisure publications.
Music from Boosey & Hawkes presented at the 2016 Frankfurt Musikmesse ranged from prestigious new scores by leading international composers, through latest choral releases, to instrumental albums providing repertoire for aspiring young musicians.
New publications from Boosey & Hawkes are available from all good music shops, including
The Shop at Boosey.com
.

Bartók Edition

Taking pride of place on the Frankfurt stand was the collection of publications in the new Bartók Edition. The Definitive Bartók Edition offers two piano collections drawing upon his extensive pedagogical catalogue including
Mikrokosmos
,
For Children
,
Ten Easy Pieces
,
Romanian Christmas Carols
and
Fourteen Bagatelles
, while the Boosey & Hawkes Bartók Edition provides idiomatic arrangements of Bartók classics for clarinet, flute, alto saxophone, trumpet and violin with piano accompaniments, introducing his music to a new generation of instrumentalists.
>
Bartók Edition


Study Scores and Full Scores

Recent releases in the classic Hawkes Pocket Score series include Copland's
Clarinet Concerto
in a new edition incorporating original solo material from 1948, and Britten's
Symphonic Suite from Gloriana
. Full scores released over the past year include Elliott Carter's late chamber orchestra
Instances
and Steve Reich's
Radio Rewrite
.
Performance Scores

Publications of recent concertos include John Adams's highly popular
Saxophone Concerto
in a reduction for soloist and piano and Michael Daugherty's
Trail of Tears
in a reduction for flute and piano. Chamber publications include Brett Dean's
Epitaphs
, works by Isang Yun in preparation for the composer's centenary in 2017, music by Polish emigré Simon Laks, and chamber and ensemble works by York Höller.
Choral and Vocal

Recent choral releases have included Frode Fjellheim's
Vuelie
, familiar from Disney's animated feature
Frozen
, together with three choral arrangements of his
Eatnemen Vuelie
in the Choral Music Experience series. Highlights have also included first publications of Górecki's
Church Songs
and Will Todd's new
Jazz Missa Brevis
. The Contemporary Choral Series has seen new works by Thomas Hewitt Jones, Hywel Davies, Paul Spicer and Gareth Treseder and the Choral Treasury Series has brought the return of choral works by Peter Warlock. New vocal albums include
Bernstein for Singers
, a collection of ten songs drawn from his classic stageworks and suited to each voice range, and Dominick Argento's
Six Elizabethan Songs
.
Piano and Instrumental

New piano music includes a collection of keyboard works by Elena Kats-Chernin, the versatile Australian-resident composer whose output ranges from opera to the classic Lloyds TSB advert.
Piano Village
includes a wide range of attractive music, from waltzes to tangos and rags.
40 Piazzolla Tangos
is a new album of piano works by the popular Argentinian master, and a selection of Piazzolla's tangos is also available in a new series of arrangements for melody instruments with online audio backing tracks.
> News Search
Mailing List
Sign up for news updates and offers via email
SIGN UP
ONLINE SCORES