New B&H Publications at the 2017 Frankfurt Music Fair
(March 2017)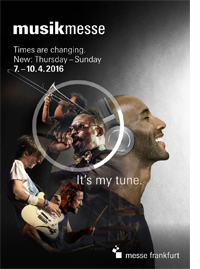 New releases from Boosey & Hawkes were showcased at the 2017 Frankfurt Music Fair (5-8 April) encompassing study scores, performance material, and the latest educational and leisure publications.
Music from Boosey & Hawkes presented at the 2017 Frankfurt Musikmesse ranged from prestigious new scores by leading international composers, through latest choral releases, to instrumental albums providing repertoire for aspiring young musicians.

New publications from Boosey & Hawkes are available from all good music shops, including The Shop at Boosey.com.

4 Strings
The 2017 Frankfurt Music Fair saw the launch of a major new Boosey & Hawkes series, 4 Strings. These three progressive collections, compiled and edited by Liz Partridge, provide contemporary string quartet repertoire for new and developing ensembles. Composers featured in the 4 Strings series range from James MacMillan, Sally Beamish, Diana Burrell, Astor Piazzolla and Max Richter through to educational specialists Christopher Norton and Katherine & Hugh Colledge. Many of the quartets have been expanded for optional use as string orchestra repertoire, offering a variety of options for developing musicians.

Discover offers an introduction to quartet ensemble playing for string players of grade 1-3 standard, covering familiar keys, common rhythms and transparent musical forms with a focus on playing together as a unit. Explore is ideal for grade 4-5 players with some ensemble experience, featuring expanded key selections, more complex rhythms and simple introductions to extended techniques. Pioneer is suited to established quartets of grade 6-8 standard, with compositions featuring greater independence of parts and increased incorporation of extended techniques.

Study Scores and Full Scores
The highlight among new scores on our Frankfurt stand was the first publication of Stravinsky's rediscovered Funeral Song for orchestra, heard again last December after 107 years. The 12-minute work is now travelling the globe with performances by the world's leading orchestras and conductors. Funeral Song joins the classic Hawkes Pocket Score series, with the printed score introduced by Dr Natalia Braginskaya whose musicological sleuthing led to the rediscovery of the work in the St Petersburg Conservatory.

Other recent releases in the HPS series include Harrison Birtwistle's In Broken Images, Unsuk Chin's Gougalon, Magnus Lindberg's Jubilees, Steve Reich's Cello Counterpoint and Proverb and Mark-Anthony Turnage's Speranza. Full scores released over the past year include five volumes in the DSCH Shostakovich Collected Edition, Michael Daugherty's Letters from Lincoln for baritone and orchestra and Steven Mackey's violin concerto Beautiful Passing.

Performance Scores
New publications include James MacMillan's Fourteen Little Pictures and a reduction of his Oboe Concerto for soloist and piano, together with concerto reductions of Michael Daugherty's UFO and Steven Mackey's Beautiful Passing for percussion and violin respectively. Elliott Carter's song cycle Tempo e Tempi is published for the first time alongside a selection of his solo works.

Choral and Vocal
Choral releases are headed by a vocal score of Karl Jenkins's Cantata Memoria, written as a 50th anniversary memorial for the victims of the Aberfan tragedy. Exploring the general theme of the loss of children before their time, the powerful work has been released on disc by Deutsche Grammophon featuring soloists Bryn Terfel and Elin Manahan Thomas. Latest releases in the contemporary choral series include music by David Bednall, James MacMillan, Philip Moore, Paul Spicer and Will Todd. New opera vocal scores include Fantasio in the Offenbach Edition Keck and Ginastera's Bomarzo, while song collections include a new Roger Quilter album.

Piano and Instrumental
New piano releases include Elena Kats-Chernin's Unsent Love Letters, offering modern reflections on the music of Erik Satie by the popular Australian-based composer, as recently released on an ABC Classics recording. Pacific Preludes by Christopher Norton is a collection of 14 melodies for the upper intermediate pianist, drawing on themes from both Asian and American sides of the Pacific. Latest releases in the Boosey & Hawkes Bartók Edition include Romanian Folk Dances and Duos & Trios in idiomatic arrangements for alto saxophone, cello, clarinet, flute, trumpet and oboe together with piano. Contemporary solo instrumental repertoire includes Unsuk Chin's Advice from a Caterpillar for bass clarinet, Double Bind? for violin and tape, and Allegro ma non troppo for percussion and tape.
> News Search
Mailing List
Sign up for news updates and offers via email
SIGN UP
ONLINE SCORES