New Stagework by Steven Mackey Features Music and Movement
(April 2016)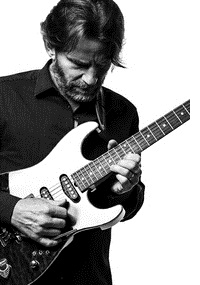 Steven Mackey's Orpheus Unsung premieres this June in Minneapolis, Minnesota.
Never far from his electric guitar, Steven Mackey knows intimately the capabilities of the instrument that started him off on a career that has brought him international renown. He has managed to synthesize the electric guitar into works such as Dreamhouse, Heavy Light, and many others, creating a welcome environment for an instrument often neglected by traditional classical ensembles. His new work, Orpheus Unsung, created in collaboration with director and choreographer Mark DeChiazza, is envisioned as an "opera for electric guitar"; the electric guitar is joined by a drum set and features live dancers and video. Orpheus Unsung premieres 16–18 June at the Guthrie Theater in Minneapolis, Minnesota.

"As a conceptual premise, we had the notion of an opera without singing — a guitar opera," says Mackey. "While acknowledging the paradox of an unsung opera, the notion at least aims us in an uncommon trajectory and helps distinguish this from a dance piece with accompanying music."

Mackey comments on the narrative of the work, following the myth of Orpheus in the underworld: "Our hero Orpheus marries his true love Eurydice. Following the wedding, Eurydice is bitten by a snake and dies. Orpheus cannot bear this and embarks on a perilous journey to the underworld with the aim of bringing her back. O's musical gifts are supreme — animals, plants, and even stones move in order to better hear him sing and play his lyre. He sings his plea to the ruler of the underworld who does allow him to take E back with him under the condition that he not look back to check to see if she is still there. When O crosses the threshold back to the surface he can no longer resist and he looks back. But E has not yet crossed and she is immediately drawn back to the underworld, gone forever. O mourns, but eventually comes to terms with his loss. Later, a mob of Thracian women in a Dionysian Orgy rip O apart. Dismembered, his head and lyre float down a stream, his head still singing and his lyre still playing, until they rest at the head of the stream and become an oracle."

Orpheus Unsung is co-produced by Liquid Music, of Saint Paul Chamber Orchestra and the Guthrie Theater. Development of the work has been made possible by a Baryshnikov Art Center Space Grant, an on-stage residency at Carleton College, and the Princeton University David A. Garner '69 Magic Grant. The drum part of Orpheus Unsung was co-created with Jason Treuting (of So Percussion) who also performs at the premiere of this work.
> Further information on Work: Orpheus Unsung
Photo: Kah Poon
> News Search
Mailing List
Sign up for news updates and offers via email
SIGN UP
ONLINE SCORES