New Versions of Appalachian Spring on the Horizon
(March 2016)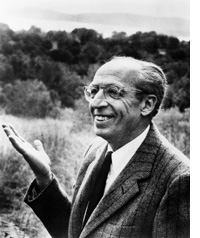 The Aaron Copland Fund for Music will be producing two new versions of Appalachian Spring for orchestra. Scores and full sets of parts will be available for both versions.
Aaron Copland's 1944 work,
Appalachian Spring
, was an immediate success following its premiere and has since lived a healthy life as a standalone concert piece. Suites created for full orchestra as well as the original 13 instruments have been staples in the repertoire for decades, appearing on the programs of nearly every major ensemble.
Two new versions of
Appalachian Spring
are set to become available for performance this year. The first will be a new engraving of the familiar orchestral suite from 1945. It corrects a number of errors and inconsistencies that have persisted in the existing material and will generally be clearer and easier to read than the current edition.
Philip Rothman, program advisor to the Aaron Copland Fund for Music, details the changes in the second version:
"The second version is the complete ballet in choreographic order, scored for full orchestra. When Copland made the orchestral suite in 1945, he omitted approximately 10 minutes of music that existed in his original 13-instrument ballet score for Martha Graham; most notable among the omissions was the large section near the end of the ballet referred to as 'Fear in the Night' or 'The Minister's Dance'. Later, in 1954, Copland orchestrated much of that music at the request of Eugene Ormandy to effectively make an extended version of the orchestral suite. However, this did not equate to an orchestrated version of the complete ballet, since the added music was not in the same place as it appeared in the ballet, and approximately fifty measures from the original ballet remained absent and unorchestrated. Composer and conductor David Newman will be orchestrating these measures so that this new orchestral edition will precisely align with the original 1944 ballet score, making it possible for contemporary audiences to experience the original ballet with full orchestra."
The new full orchestra version of the complete ballet will be premiered by Southern Methodist University's Meadows Symphony Orchestra at the Winspear Opera House in Dallas, Texas on 11 May. The Baltimore Symphony Orchestra, under the direction of Marin Alsop, performs the new version 9–11 June with dancers from the Baltimore School of the Arts performing the original Martha Graham choreography. The Milwaukee Ballet performs the full orchestra version to Mark Godden's new piece,
Angels in the Architecture,
20–23 October.
N.B.: In 2012, the Fund created a new engraving of the 1972 suite for 13 instruments. This version will remain available for performance.
View this news story in Spanish.
> Further information on Work: Appalachian Spring
Photo: John Ardoin
> News Search
Mailing List
Sign up for news updates and offers via email
SIGN UP
ONLINE SCORES