New Vivier ballet in Hamburg's Greatest Hits festival
(January 2016)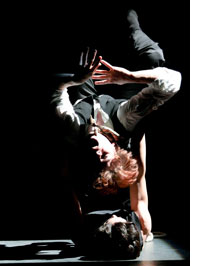 A major Vivier focus in Hamburg included concerts, talks and a new ballet, Enlightened Child, choreographed for German National Youth Ballet by Natalia Horecna.
German interest in the music of Claude Vivier (1948-83) gathered momentum in November with a major composer focus in Hamburg's Greatest Hits festival, curated in collaboration by Kampnagel, the Elbphilharmonie and NDR. Taking centre-stage was Natalia Horecna's new ballet Enlightened Child, choreographing Vivier's Wo bist du Licht!, Bouchara and Zipangu. The dance theatre work explores the Canadian-born composer's foundling roots and search for spiritual growth amidst dark shadows.

"Dance isn't often as intimate, intense and finely chiselled, yet also as powerful… the eight dancers of the German National Youth Ballet slip into the composer's shoes – they embody him, they become his alter ego, each in his or her own way… Ensemble Resonanz plays the three challenging works by Vivier with tremendous transparency and delicacy… what is created, increasingly interwoven piece by piece, is a complete work of art which does justice to Claude Vivier the person as well as to the artist."
Tanznet

In addition to chamber performances of Paramirabo and Shiraz, and a series of talks about Vivier, the Hamburg series included the composer's rarely heard Siddhartha for eight orchestral groups, with the North German Radio Symphony Orchestra conducted by Matthias Pintscher:

"Inspiration, as experienced by the Brahmin's son Siddhartha on the verge of suicide in Hermann Hesse's tale, is what Vivier longed for. And this led to the magnificent symphonic poem Siddhartha in 1976… Harsh blocks contrast with romantically-sparked melody. Towards the end Goethe's last request seems to be fulfilled: "Mehr Licht!" – "More Light!".
Die Welt

Further performances of the new Enlightened Child ballet are planned for Ingolstadt on 12 July and Cologne on 4 October. Forthcoming Vivier highlights in the USA include Lonely Child in Saint Louis conducted by David Robertson on 2 and 3 April, and the US premiere of the opera Kopernikus on 12 June at the Ojai Festival, curated this year by Peter Sellars.
> Further information on Work: Siddhartha
Natalia Horecna's Vivier Ballet Enlightened Child in Hamburg (Photo: Jann Wilken)
> News Search
Mailing List
Sign up for news updates and offers via email
SIGN UP
ONLINE SCORES