New album marks Finzi's 60th anniversary of death
(March 2016)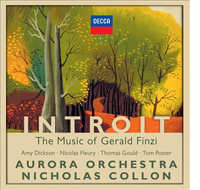 Introit – The Music of Gerald Finzi has topped the classical charts, winning new audiences for the composer in his 60th anniversary year.
Sixty years after his death,
Gerald Finzi
's music is reaching and moving a large new audience with a chart-topping CD release from Decca Classics.
Introit – The Music of Gerald Finzi
takes a fresh approach to some of his best-loved works, presenting them in new arrangements for orchestra and solo instrument. A successful launch saw the recording going straight to No.1 in the UK specialist classical chart, with a prominent feature as Classic FM's Album of the Week.
The project was commissioned by the Finzi Trust with the intent of introducing Finzi's music to performers and listeners who might not be familiar with his vocal works. Rising stars Amy Dickson (saxophone), Thomas Gould (violin), Nicholas Fleury (French horn) and Tom Poster (piano) were paired with the Aurora Orchestra and Principal Conductor Nicholas Collon to perform arrangements by Harvey Brough, Patrick Hawes, Paul Mealor and Mike Sheppard, some of today's most versatile and imaginative arrangers.
The album also features Finzi classics including the
Romance
and the single movement
Eclogue
and
Introit
originally composed for concerto projects. The rarely heard
Three Soliloquies
are gems Finzi wrote as incidental music for a BBC production of
Love's Labour's Lost
.
>
Listen to audio clips of the new CD
"…this release is attractively innovative in broadening the spectrum beyond the comparatively well-known cantata
Dies natalis
and the
Clarinet Concerto
, and in presenting some familiar works in a new guise."
The Telegraph


"This is an enticing package... Collon and the Aurora Orchestra play this music with genuine freshness. Phrases are expressively moulded, inner parts nurtured and long lines beautifully sustained, with a lively attention to detail that pays real dividends"
BBC Music Magazine
Amy Dickson said, "Making this album has been a real dream. Finzi's music has an understated yet passionate quality to it and I hope I do justice to these new arrangements of his beautiful and lyrical melodies".
Chairman of the Finzi Trust Robert Gower said, "With its obvious sincerity, eloquence and approachability, Finzi's artistic voice has received increasing public acclaim in the years following the composer's 2001 centenary celebrations. This album continues the forward journey, spotlighting young artists at the cutting edge of their performing careers together with internationally respected arrangers in a musical exploration using the innovative sound world of the saxophone".
Other events honouring the 60th anniversary of Finzi's death include performances of
a
new edition of his
Magnificat,
with a specially commissioned
Gloria
and
Nunc dimittis
by David Bednall
,
and the unveiling of a commemorative window at Gloucester Cathedral.
>
More information on the Mag and Nunc
>
Visit the Finzi Trust website
> News Search
Mailing List
Sign up for news updates and offers via email
SIGN UP
ONLINE SCORES