Offenbach's Fantasio returns to the operatic stage
(May 2015)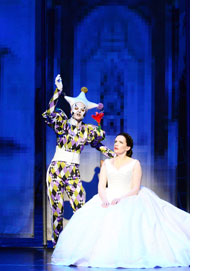 Jacques Offenbach's Romantic opera Fantasio has returned to the stage, thanks to the new edition by Jean-Christophe Keck.
"Spirit, wit, irony, motor energy and explosive political power…" So wrote the Stuttgarter Nachrichten summing up the new production in Karlsruhe of
Fantasio
, returned to the stage thanks to the
Offenbach Edition Keck
. The opera tells how the lovelorn Fantasio impersonates a court jester to save a princess from an undesirable suitor. The character's ambiguity was ideal for the composer to explore a more overtly Romantic flavour in contrast to his lighter operetta style, and Jean-Christophe Keck's sleuthing has revealed the opera as a missing link between
Les Fées du Rhin
and
The Tales of Hoffmann
.
"In this version the work is a real discovery. What fascinates above all alongside the exceptional multifaceted sound is the fantastically will o' the wisp multi-layeredness of this Opéra-comique… Buffa comedy, romantic melancholy, political appeal… a finely-woven sound tapestry which was never dense or diffuse. The sound simply sparkled with exquisite colours."
Die Deutsche Bühne


"Jean-Christophe Keck has re-assembled Offenbach's autograph manuscript from sources all over the world. It's never been clearer why Offenbach in fact regarded himself as the exact opposite of Wagner… This music is familiar with the secrets of simplicity… The colours are dabbed on the canvas with the greatest care, some passages seem almost like a sketch. Everything sounds 'nocturnal', shot through with romantic shimmer."
Süddeutsche Zeitung


"…an unbelievably imaginative, original, bitter-sweet, music often tinged with melancholy, with the most unusual tonal colours and sophisticated combination of musical numbers… a wonderfully diverse, varied piece, which you want to hear again as soon as possible – a real gem…"
Salzburger Nachrichten


The recent Opera Rara recording of
Fantasio
conducted by Mark Elder, with virtuoso performances from singers Brenda Rae and Sarah Connolly, was selected by critics as a highlight of 2014 and recently won the CD category in the International Opera Awards.
Offenbach's
The Princess of Trébizond
returned to the Baden Baden Theatre – where it was premiered in 1869 – in a sparkling collaboration between young singers and members of the Berlin Philharmonic. This witty chamber opera, ideal for festival and conservatoire performance, describes how a troupe of tightrope artists enjoys a windfall, but the performers eventually abandon their newfound riches to return to the vagabond life. According to the
Badische Zeitung
, the production explained why "the great Viennese literary and theatre connoisseur Karl Kraus thought it one of Offenbach's best works" revealing the composer as "the brilliant musical satirist of the 19th century and great-grandfather of Dadaism".
> Further information on Work: Fantasio (OEK critical edition)
Photo: Badische Staatstheater/Falk von Traubenberg
> News Search
Mailing List
Sign up for news updates and offers via email
SIGN UP
ONLINE SCORES