Offenbach's opera Fantasio returns to Paris stage
(December 2016)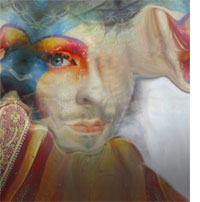 Offenbach's Romantic opera Fantasio, currently enjoying a revival of interest, returns in February to the Opéra-Comique, the Parisian company which premiered it in 1872, in a new production set to tour European opera houses.
The Opéra-Comique in Paris stages a new production of Jacques Offenbach's
Fantasio
in February, with nine performances at the Théâtre du Châtelet (12-27 February). This marks the return of this Romantic opera, enjoying a revival of interest thanks to performances in concert and stage and an acclaimed recording, to the company that gave the work its premiere in 1872. The production by Thomas Jolly will then travel onwards to the Grand Théâtre de Genève, Opéra de Rouen, Opéra National de Montpellier and the National Croatian Theatre in Zagreb. Paris performances feature a cast including Marianne Crebassa, Marie-Eve Munger and Jean-Sebastien Bou, with the Orchestre Philharmonique de Radio France conducted by Laurent Campellone.
The renewed interest in
Fantasio
has been stimulated by the new edition of the opera in the Offenbach Edition Keck published by Boosey & Hawkes, thanks to the musicological endeavours of Jean-Christophe Keck who has investigated the available sources and prepared the edition. Three versions of
Fantasio
exist - all to be offered within the new three volume Keck edition - with options drawn from both the Paris and Vienna versions, and including variants due to the title role originally being conceived for tenor, eventually being taken by the mezzo-soprano Célestine Galli-Marié who was to become the first Carmen, and later being recast for soprano. The Paris performances will be using the version for mezzo with Marianne Crebassa as Fantasio.
Offenbach based
Fantasio
on the romantic comedy by Parisian dramatist and poet Alfred de Musset, published in 1833, but not staged until 1866 after the author's death. Fantasio is a troubled, lovelorn character, and this ambiguity appealed to Offenbach, giving him the opportunity to explore a more overtly Romantic flavour in contrast to his lighter operetta works. It clearly points forward to
The Tales of Hoffmann
, within a little-known strand of the composer's work exploring emotionally darker and richer territory than his opera buffa. The opera grew out of the most turbulent era of the composer's life, the Franco-Prussian War, when, reviled as a German-born adoptive Frenchman, he had to take refuge in Spain.
Thanks to the Keck edition of
Fantasio
, the work has been heard in concert in recent years in London, Montpellier and Berlin, on stage in Karlsruhe, and on an acclaimed Opera Rara disc conducted by Mark Elder, featuring Brenda Rae, Sarah Connolly and the Orchestra of the Age of Enlightenment. Opera Rara is planning a concert and recording of Offenbach's
La Princesse de Trébizonde
for the end of 2017.
The Offenbach bicentenary is celebrated in 2019.
>
Opéra-Comique website
>
Offenbach Edition Keck website
> Further information on Work: Fantasio (OEK critical edition)
Image: Opéra Comique
> News Search
Email Newsletters
Sign up for news updates and offers via email
SIGN UP
ONLINE SCORES