Paquito D'Rivera Receives Chamber Music America's 2017 Bogomolny National Service Award
(February 2017)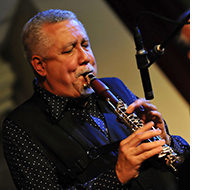 The 14 Grammy Award-winning composer added one more trophy to his collection: Chamber Music America's annual award to an individual who has made a significant impact on the chamber music field.
On January 15, 2017, Chamber Music America awarded Paquito D'Rivera with the 2017 Bogomolny National Service Award at their 39th Annual Conference in New York City. Named in honor of former CMA Board Chairman Richard J. Bogomolny, this award is presented annually to an individual who has made a significant and lasting contribution to the chamber music field.

The Havana-born clarinetist, saxophonist, and composer is celebrated both for his artistry in Latin jazz and his achievements as a classical composer, and is the winner of 14 GRAMMY Awards. D'Rivera has been commissioned by Jazz at Lincoln Center, the Library of Congress, the National Symphony Orchestra and Rotterdam Philharmonic, the Turtle Island String Quartet, and the Ying String Quartet, among many others. His many honors include the Carnegie Hall Lifetime Achievement Award, the National Medal of Arts, the Frankfurter Musikpreis, and a Guggenheim Fellowship. He was named an NEA Jazz Master in 2005 and a Kennedy Center Living Jazz Legend in 2007.

The award was presented during the conference in a special awards event entitled "A Conversation with Paquito D'Rivera," at which CMA Board President Billy Childs interviewed D'Rivera before presenting him with the award. During the interview, Childs talked with the composer about his storied performance career and unique approach to more traditional forms of classical composition as a jazz musician. D'Rivera encouraged jazz and classical musicians to look beyond their own genres and to be open listening to and performing each other's types of music. After the awards presentation, Mr. Child's accompanied D'Rivera in a performance.
Photo: Phil Nelson
> News Search
Mailing List
Sign up for news updates and offers via email
SIGN UP
ONLINE SCORES