Peter Maxwell Davies (1934-2016): a tribute by Paul Griffiths
(March 2016)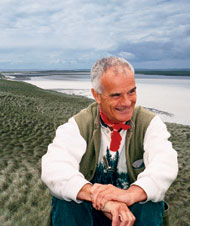 Following the death of Sir Peter Maxwell Davies, Paul Griffiths pays tribute to the pioneering composer whose works redefined British music in the 1960s, '70s and beyond.
Peter Maxwell Davies
, universally known as Max, was for well over half a century the harlequin of British music: a spirit brilliant, alert and lightly ironic, energetic everywhere and yet always distinctly himself, altogether vital. He leaves the scene poorer and duller, but he also leaves behind him an extraordinary quantity of music that will keep that spirit alive.
The scale of his output alone is formidable. He wrote ten symphonies, seventeen concertos and numerous other big orchestral scores. During two decades of work with his own group, the Fires of London, he produced close on a hundred pieces, including some of the central examples of music theatre. He also created a wealth of music for school-age children to perform, a sphere to which he contributed more than any other composer of the front rank.
All this he did from his belief that a composer must be active in society, a belief that took him from working as a school music master when he was in his mid-twenties to serving as Master of the Queen's Music through his seventies. Answering an evident need, wherever it came from, he could compose a musical play for young children or a birthday ode for the monarch with the same care and relish he brought to a string quartet or an opera.
From one point of view – which might have been his own – it was his sequence of symphonies that crowned his achievement. They strode forward along the line of the great works he had pored over as a boy in the John Rylands Library in Manchester. They explored a harmonic realm he had been glimpsing from his student years in the same city, a realm in which traditional tonality intersected with new functions rooted in the modes of medieval and Renaissance music. They also took him through much of his adult life, the First begun when he was still in his thirties, the Tenth finished when he was approaching eighty.
Their voice is forthright and personal, in moods of sombre search, fierce intensity and lustrous dance, through imposing climaxes towards justified but yet uncertain resolutions. At the same time, they belong in a peculiarly British tradition of the landscape symphony, Maxwell Davies's preferred vistas being those of Orkney: dawn light on the rippled sea, barren moors, deserted villages, wide bays and high cliffs, monuments from forgotten times – scenes empty and barely hospitable.
Magnificent as his symphonies may be, unequalled in modern times in their power and poetry, the works that led up to them, also strongly represented in the Boosey & Hawkes catalogue, are no less remarkable. By his own account, Maxwell Davies had recognized as a student that he would need to provide himself with solid foundations for a lifetime's composing, and he set about building those with reference to the great masters of the western past, to the continental avantgarde of the 1950s (represented for him principally by Nono and Boulez) and to English music of the fifteenth and sixteenth centuries.
Through his twenties he moved forward from small instrumental pieces to big orchestral works and the first of his compositions for schools. He was soon a national figure, gaining important commissions, including in 1962 his first for the Proms. His future might have looked steady, stable and assured.
Also in 1962, however, he started work on an opera,
Taverner
, about the early sixteenth-century English composer John Taverner and his presumed conversion from Catholic musician to Protestant zealot. This turn-around, which is what drew Maxwell Davies to the subject, obliged him to consider issues of authenticity and betrayal in his own music as he was composing the opera. On the largest scale, he designed the second act as a parody of the first, the central character's self-betrayal rendered by means of music that, by intention, betrays its former self.
Parody and distortion now came raging into his music, beginning with his
Second Fantasia on an In Nomine of John Taverner
(1964), which is effectively a
Taverner
symphony, as well as being one of several works he based on a section of a Taverner mass that had fascinated English composers throughout the century and a half to Purcell. Hitherto relatively abstract, Maxwell Davies's music began to speak with Mahlerian urgency and doubt.
Thereafter the stylistic violence only increased. In 1966 came a work in which an expressionist vision by the World War I poet Georg Trakl is yelled and screamed by a female vocalist,
Revelation and Fall
. The following year, Maxwell Davies and his Manchester classmate Harrison Birtwistle formed an ensemble to take the next step into staged music theatre, with Schoenberg's
Pierrot lunaire
their model – hence the group's original name, the Pierrot Players; they became the Fires of London soon afterwards, under Maxwell Davies's sole direction.
In 1969 Maxwell Davies composed two startling pieces for the new ensemble:
Eight Songs for a Mad King
, in which a male singer of formidable vocal and histrionic powers presents himself as the insane George III of England, and
Vesalii icones
, a dance of the Stations of the Cross, executed to meditations and contortions in which the cello has a solo role. Both these works have episodes of serious gravity, along with others that fly off into wild virtuosity or black humour. Existing music – Handel's
Messiah
in
Eight Songs
– is fiercely parodied; eventually the foxtrot arrives as an image of ultimate debasement.
Maxwell Davies did much the same in concert pieces of this period, such as his
Fantasia and Two Pavans after Purcell
(1968), for the instrumentalists of his ensemble, or the orchestral
St Thomas Wake
(1969), based on a keyboard piece by Shakespeare's contemporary John Bull. The music exists in a highly excited state, which it vividly communicates.
Even so, Maxwell Davies clearly recognized that he needed to reintegrate his dispersed musical personality, and he set about doing so in
Worldes Blis
(1966-9), once more an orchestral score of symphonic depth and range. Early music again provided the seed: in this case, a medieval English song. But this time there is no parody, no foxtrot. The work enacts the process of reconsideration and rediscovery that made it possible.
The riot was not over. Maxwell Davies relived his highly charged and gleefully parodic styles for the benefit of two films by Ken Russell:
The Devils
and
The Boy Friend
. He also returned to the mad scene, as in
Miss Donnithorne's Maggot
(1974), though by this time his music was becoming calmer and solider on the way to his First Symphony.
There was also a personal recentring, which he found in Orkney. He first visited the islands in 1970, and the next year set up home there, in an isolated cottage. Orkney subjects soon entered his music.
Stone Litany
(1973), an orchestral song cycle, sets runic inscriptions from Maes Howe, a neolithic burial chamber, and evokes the mysterious presence of this artificial mound in flat terrain. In many other vocal works he set poems by the Orkney writer George Mackay Brown, a poignant example being
Dark Angels
for voice and guitar (1974). The two collaborated on a small-scale opera,
The Martyrdom of St Magnus
(1977), for a première at the first St Magnus Festival, an annual event instituted by Maxwell Davies.
The chamber symphony
A Mirror of Whitening Light
(1976) was a spectacular response to the view of the Atlantic from the composer's new home. Major works for the Fires of London continued, but they took the form now of broadly developed chamber compositions, such as
Ave maris stella
(1975), and though Maxwell Davies went on showing his passion for older music – Bach, motets and dances from the Scottish Renaissance – the resulting arrangements were usually straight, as well as deft.
It was a new era, and the première of the First Symphony, in 1978, put the seal on it. High spirits, bolts of surprise, comic turns, were all now embraced in a style that was fully mature, and Maxwell Davies was ready for the challenges to come.
Paul Griffiths © 2016

>
Read the announcement of the death of Sir Peter Maxwell Davies
>
Read a selection of obituaries and tributes
Photo: SBC/Gunnie Moberg
> News Search
Email Newsletters
Sign up for news updates and offers via email
SIGN UP
ONLINE SCORES