Peter Maxwell Davies: new concert overture premiere
(October 2013)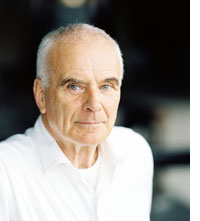 Peter Maxwell Davies is reunited with the Scottish Chamber Orchestra for the premiere of his new Concert overture: Ebb of Winter.
Peter Maxwell Davies's new Concert overture: Ebb of Winter is premiered by the Scottish Chamber Orchestra in Glasgow City Halls on 8 November conducted by Oliver Knussen, with a performance the following day in Edinburgh. The work was commissioned for the SCO's 40th anniversary season and celebrates the close association between orchestra and composer.

Maxwell Davies recalls how he was commissioned in the late 1980s to compose the series of 10 Strathclyde Concertos, "writing for and working with the leaders of each section, and conducting performances of these works not only in Scotland, but also in Europe and America. It is a great privilege, with this history, to be invited to write a work for the SCO's fortieth birthday, as a vote of thanks for a wonderful musical experience with them in the past, and also as a vote of confidence in their glorious future."

Scored for chamber orchestra, the new 15-minute work relates to the shift of seasons experienced in the Scottish islands where the composer has made his home since 1970: "I wrote this piece in the 'Ebb of Winter', and spring was just starting to come in. The weather and the climate in Orkney changed day by day when I went out for a walk with my dog. The piece is a reaction to the Orkney climate and influenced by Orkney folk music."

The premiere of Ebb of Winter acts as an upbeat to the celebrations in 2014 for the composer's 80th birthday. Next year sees the completion of Naxos's re-releases of Maxwell Davies discs originally on the Collins Classics label, with repertoire including Strathclyde Concerto No.10, Seven in Nomine, Stone Litany and The Beltane Fire. Boosey and Hawkes has recently released study scores of three of the Orkney Saga series and Seven Skies of Winter in its Hawkes Pocket Score series.

To explore Maxwell Davies's music in preparation for his 80th birthday visit: www.boosey.com/max80.
> Further information on Work: Concert overture: Ebb of Winter
Photo: Martin Lengemann
> News Search
Mailing List
Sign up for news updates and offers via email
SIGN UP
ONLINE SCORES