Pierangelo Valtinoni: Snow Queen at Komische Oper in Berlin
(May 2011)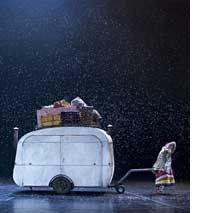 The Komische Oper in Berlin premiered The Snow Queen, a new children's opera by Pierangelo Valtinoni, with a Christmas run of 12 performances.
Based on Hans Christian Andersen's fairy-tale, Pierangelo Valtinoni's new commission, The Snow Queen, followed the company's successful staging of his Pinocchio and, like the earlier work, it effectively combines adult and children's roles with children's chorus and chamber orchestra. An alternative simplified version for an all-children cast was unveiled at the Kampnagel in Hamburg in February, presented by the Staatsoper and a second staging opened at the Teatro Communale in Vicenza in April.

"The new fairy-tale opera has the makings of a crowd-puller. The Italian composer's music is tonally sensual and catchy… Rhythmically-accented numbers match the children's urge to keep moving. Counting rhymes and nursery rhymes find their place in the score just as much as the shimmering sound atmosphere which accompanies the gleaming violet castle of ice."
Berliner Morgenpost

"The first performance was given a tumultuous welcome with cries of bravo and long applause. Italian composer Pierangelo Valtinoni has created a work which is melodic almost throughout. Some of the catchy arias even verge on musicals-style songs. But the musical harmony is also necessary, for the story of Gerda and her friend Kay is sometimes melancholy and sometimes even downright creepy..."
Der Tagesspiegel

"an exemplary children's opera from Andersen's fairy-tale"
Frankfurter Allgemeine Zeitung

Other operas in the Boosey & Hawkes catalogue featuring young performers and children's chorus include The Arabian Princess, a pasticcio of music by Arriaga with new text by Paula Fünfeck. This made history in 2009 as the first opera presented in the Palestinian territories and received a new staging at Leipzig Opera last month. The Three Riddles by Detlev Glanert, which combines child and adult singers on stage, has received over 90 performances since its premiere in 2003 and a new production opens this month in Koblenz. Karl Jenkins's children's opera Eloise is enjoying a growing number of international performances, including stagings at the Leipzig Gewandhaus last season and at the Bonn Theater this July: the work is suitable for both school productions and opera house educational programmes.
> Further information on Work: Die Schneekönigin
Photo: The Snow Queen at the Komische Oper in Berlin (DRAMA)
> News Search
Mailing List
Sign up for news updates and offers via email
SIGN UP
ONLINE SCORES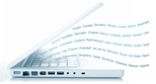 Explore our library of over 1000 online scores
VIEW SCORES