"Portrait Claude Vivier" at Festival d'Automne à Paris
(August 2018)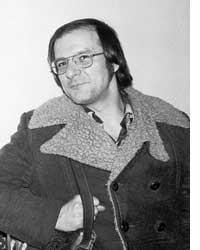 This September through December, the Festival d'Automne à Paris presents "Portrait Claude Vivier," with multiple concerts showcasing his major ensemble, orchestral, and stage works.
The Festival d'Automne à Paris, which draws an international audience to its theater, music, dance, visual arts, and cinema programming every year during the autumn months, dives into the mystical, wide-ranging works by Quebecois composer Claude Vivier in fall 2018. "Portrait Claude Vivier" includes five major presentations of Vivier's concert and theatrical works this September through December.
On September 27, the festival's first portrait concert features Vivier's
Orion
(1979) for orchestra, with Cristian Macelaru leading Orchestre National de France. In this work, Vivier depicts the famous constellation, represented by an ethereal melody that is developed across six different sections. To describe this work of development across time, the composer wrote: "I have a feeling that I am not moving, as if in an airplane standing still, yet I am traveling from Cairo to Kuala Lumpur." The work demonstrates the influence Vivier's 1976 visit to Bali had on his compositions.
> Sep 27:
Concert info
The following concert on October 8 features works of smaller forces:
Pulau Dewata
(1977) for ensemble, a bright work imbued with the spirit of Bali;
Bouchara
(1981) for soprano and ensemble, which Vivier describes as a long love song, sung in an invented "language of love"; and
Shiraz
(1977) for solo piano, a powerful, driving work of four-part writing in which Vivier artfully experimented with harmonies. The program is performed by Ensemble L'Instant Donné, led by Aurélien Azan-Zielinski, and joined by soprano Marion Tassou on
Bouchara.
>
Oct 8:
Concert info
On October 25, the festival presents
Siddhartha
(1976), his largest orchestral score. In this work, Vivier separates the orchestra members into eight chamber groupings. The 27-minute piece is inspired by the book by Hermann Hesse, depicting the spiritual journal of a young man in search of enlightenment.
> Oct 25:
Concert info
Chœur Solistes XXI and Ensemble Intercontemporain join forces for this concert program highlighting the voice. The concert opens with
Glaubst Du an die Unsterblichkeit der Seele?
(1982-83), Vivier's final composition—a meditation on death and immortality, written for a 12-voice choir, narrator, three synthesizers, two percussionists and electronics. His
Cinq Chansons
for solo percussioning playing Balinese instruments follows: five songs for each part of the day—morning, midday, afternoon, evening, and night.
>
Nov 16:
Concert info
Portrait Claude Vivier closes with a two-week production of
Kopernikus
(1978-79) for seven singers, seven instrumentalists, and recorded soundtrack, from December 4 to 19. Peter Sellars, who presented and directed the opera at the 2016 Ojai Music Festival to critical acclaim, directs Roomful of Teeth and Ensemble L'Instant Donné in this staging. Subtitled "A Ritual Opera of Death," this whimsical theatre work tells the story of the child Agni as she journeys toward death and acceptance, and encounters several historical and mythological characters, including Merlin, Lewis Carroll, Mozart and the Queen of the Night. The libretto, written by Vivier himself, features text in French and English, as well as a made-up language of nonsense syllables.
> Dec 4-19:
Concert info
Photo: J.A. Billard
> News Search
Email Newsletters
Sign up for news updates and offers via email
SIGN UP
ONLINE SCORES