Qigang Chen: UK premiere of Luan Tan and new CD
(April 2016)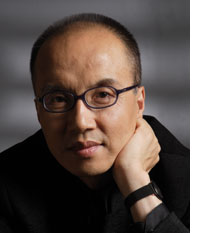 The Royal Liverpool Philharmonic Orchestra presents the UK premiere of Qigang Chen's orchestral variations Luan Tan in May and Naxos releases a new disc of the composer's music.
Qigang Chen
's most recent orchestral work,
Luan Tan
, receives its UK premiere on 26 May with the Royal Liverpool Philharmonic Orchestra conducted by Alexandre Bloch. This energetic set of variations draws upon folk traditions of Chinese musical drama and sees Chen moving from his usual territory of refined melancholy to a more extrovert style with strong rhythmic empasis.
Luan Tan
was premiered at the Hong Kong Cultural Centre in April 2015, with Zhang Xian conducting the Hong Kong Philharmonic Orchestra, with a further performance in December by the Shanghai Symphony Orchestra. The French premiere is planned for a future season.
The 22-minute work builds layers upon a flute melody,
Bolero
-like through a sequence of variations, and is a tribute to Chen's son Yuli, who died tragically in a car crash aged 29. As the composer described in an interview with the South China Morning Post: "The overall tone of
Luan Tan
is energetic and happy, and that's my boy's personality… my son and I co-exist in the music, which is positive, dynamic and full of life."
Chen writes in his programme note that his "inspiration was from the traditional form of
Luan Tan
– an outgoing musical style in Chinese drama originating around 1600 – timbres and characters from this style make an inevitable appearance in the work, for instance in the shape of the important role played by the temple block, with the almost cacophonous counterpoint of the Chinese cymbals."
Naxos this month releases a new recording of Chen's music, including the first recording of his piano concerto
Er Huang
(8.570614). Chun-Chieh Yen is soloist with the Taiwan Philharmonic conducted by Shao-Chia Lü. The concerto was premiered at Carnegie Hall in 2009 with Lang Lang and soloists in 15 performances over the past five years have ranged from Jean-Yves Thibaudet to Herbie Hancock. Other works on this all-Chen disc include two of his most widely performed works,
Enchantements oubliés
and
Un temps disparu
which features the erhu, a two-stringed Chinese fiddle.
Later this month, Charles Dutoit conducts
Er Huang
with the Shanghai Symphony Orchestra with Zhang Zuo as soloist. Chen's trumpet concerto
Joie Eternelle
receives its German premiere in June with three performances featuring Alison Balsom and the Munich Philharmonic conducted by Long Yu.
> Further information on Work: Luan Tan
Photo: Liu Hui
> News Search
Email Newsletters
Sign up for news updates and offers via email
SIGN UP
ONLINE SCORES