Qigang Chen: new trumpet concerto for Alison Balsom
(June 2014)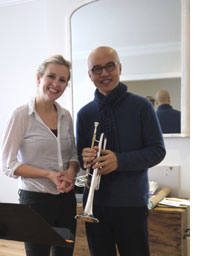 Joie Eternelle, Qigang Chen's new trumpet concerto for Alison Balsom, receives first performances in Beijing, Shanghai and at the BBC Proms in London in July.
Qigang Chen's new trumpet concerto for Alison Balsom, entitled Joie Eternelle, receives its world premiere on 1 July at the Poly Theatre in Beijing with the China Philharmonic conducted by Long Yu. A second Chinese performance follows on 4 July at the Shanghai Concert Hall with the Shanghai Symphony to open the Music in the Summer Air festival. Balsom and the concerto then travel with the China Philharmonic and Long Yu to Europe, including the orchestra's first appearance at the BBC Proms on 19 July.

As with his recent work for piano and orchestra written for Lang Lang, Er Huang, the new concerto's title refers to a generic melody drawn from the tradition of Beijing Opera. Qu Pai (Eternal Joy) is an important tune from the repertoire of Kun opera, one of the classic forms of Beijing Opera. The original tune, called Qu Pai, is delicate and graceful, yet also has an unyielding, instantly identifiable character. Qigang Chen first heard the melody as a small child, in the famous Kun opera Peony Pavilion by Tang Xian Zu.

The composer describes how "subsequent encounters with the tune as an adult have always evoked childhood memories. I have decided to use the original title of Eternal Joy because it also seems to me to have a quasi-religious connotation. When commissioned by the BBC Proms and other organisations to write this work, I thought it was the perfect opportunity to reincarnate this unforgettable tune with the sound of the trumpet, a very Western instrument. By doing so, I hope to fully explore the expressive range of the instrument, from the exquisite to the muscular."

Er Huang receives autumn performances with Jean-Yves Thibaudet as piano soloist, on 20 September with the China Philharmonic at the Beijing Music Festival, and its French premiere on 1 and 2 October with the Orchestre de Paris at the Salle Pleyel, both with Long Yu as conductor.

Chen's future works include a new orchestral commission from the Hong Kong Philharmonic, Radio France and the Royal Liverpool Philharmonic, for premiere under the baton of Zhang Xian in Hong Kong in April 2015.
> Further information on Work: Joie Eternelle
Photo: Sharon Zhu
> News Search
Mailing List
Sign up for news updates and offers via email
SIGN UP
ONLINE SCORES