Qigang Chen: premieres from Beijing to the West
(September 2017)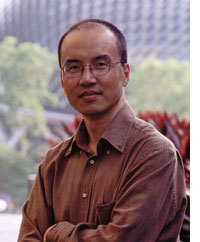 Three new Qigang Chen works with orchestra are premiered this season in Beijing, travelling to co-commissioning organisations in the West.
Three works with orchestra by Qigang Chen have their premieres in Beijing this season followed by performances from an extensive list of international co-commissioners. A new set of orchestral variations, Itinéraire d'une illusion, is unveiled on 18 October by the National Centre for the Performing Arts Orchestra under Lü Jia in Beijing, travelling on tour to Carnegie Hall in New York and San Francisco. Future performances are planned by the Philharmonie Zuidnederland and the Orchestre national du Capitole in Toulouse and at the Philharmonie de Paris next season.

The itinerary of the title sees Chen sensing parallels between the compositional process and the journey of life itself: "We start off with good wishes and faith in pursuit of the perfect ending. Yet unpredictability is always lurking somewhere along the way, waiting to deviate us from our path. Life as a play on stage, success and failure, glints and glamour, the seeming authenticity of celebrities, politicians or scavengers on the streets - all will have to come to an end."

Maxim Vengerov is soloist in Chen's new violin concerto La Joie de la souffrance, premiered at the closing gala concert of the 20th Beijing Music Festival on 29 October with the China Philharmonic and Long Yu. Other commissioners include the Melbourne Symphony, Shanghai Isaac Stern International Violin Competition, New Jersey Symphony and Orchestre national du Capitole de Toulouse. The work is based on an ancient Chinese melody dating from the Tang Dynasty and explores the relationship between joy and suffering. Chen views these seeming opposites as "a matter of 'Yin' and 'Yang', inseparable and hence all things should contain both. Like loss and gain, they are bound to balance out."

Next spring brings a new work for chorus and orchestra with a solo part for traditional Chinese opera singer, setting an 11th century text by Su Shi, a polymath and statesman from the Song Dynasty. Following performances in Beijing on 2 and 3 March by the NCPA Orchestra and Chorus under Alexandre Bloch, the work is performed by the BBC National Orchestra of Wales at the Vale of Glamorgan Festival and by the Sydney Symphony Orchestra.

Performances of Chen's works this season include the piano concerto Er Huang with soloist Jean-Yves Thibaudet in Hong Kong (15 December) and in Lyon (17/18 May 2018) and the trumpet concerto Joie Eternelle in Leipzig (3 June 2018).


> Further information on Work: La joie de la souffrance
Photo: Zhang Qi
> News Search
Mailing List
Sign up for news updates and offers via email
SIGN UP
ONLINE SCORES