Reich 80th birthday: new works Pulse and Runner travel
(February 2017)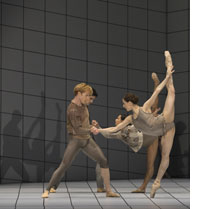 Two new ensemble works were premiered in 80th birthday celebrations for Steve Reich: Pulse at Carnegie Hall in New York and Runner at the Royal Ballet in London.
"
Steve Reich
showed the world the hypnotic pleasures of repetition as his music took in religion, politics and New York city life – and aged 80, he's still moving forward." So wrote
The Guardian
in a profile of the composer anticipating celebrations at Carnegie Hall in New York and the Barbican and Royal Opera House in London, including premieres in November of his latest pieces
Pulse
and
Runner
.
Programmed alongside intense and epic Reich works such as
Different Trains
and
Three Tales
, the first performances of
Pulse
in New York and London revealed a fresh angle from the composer, with music that is contemplative and serene. Following first performances by ICE and the Britten Sinfonia, Ensemble Modern has toured
Pulse
to the Paris Philharmonie, Cologne Philharmonie and Amsterdam's ZaterdagMatinee series, and the Los Angeles Philharmonic New Music Group has included it in a Green Umbrella concert.
"
Pulse
, for small ensemble, begins with the strings making swooping lyrical lines, as at the start of
Appalachian Spring
: The mood is one of emerging, arising. A gentle, yes, pulse — quick but not pounding — emerges behind it, soon joined by a meatier, lower throb in the electric bass."
New York Times


"
Pulse
felt like a rapturous extended song…"
The Guardian


"Beauty is a consistent quality of Reich's recent music, and the most beautiful of all has to be
Pulse
, which was simple and luminous… At the bottom of
Pulse
was a constant eighth-note throb from an electric bass through shifting meters. On top, there was a marvellous long-limbed, lyrical melody, repeated at times in tutti, at others in a closely mirrored canon."

New York Classical Review

Runner
for large ensemble was unveiled within a new Reich ballet,
Multiverse
, choreographed by Wayne McGregor for The Royal Ballet in London. European concert performances followed from Ensemble Modern, and the US premiere was presented by Ensemble Signal last month in the Cal Performances series in Berkeley.
"McGregor pairs Reich's 1965 looped tape composition
It's Gonna Rain
with
Runner
, a piece written 50 years later. The first piece is fractured and apocalyptic (a preacher is predicting the end of the world after all), while the second — the new Reich — is hopeful, harmonic and healing... McGregor's choreography segues from frantic exposition, almost automated in its pained realisation of impending disaster, to a more sumptuous expression of humanity and haven."
The Times


"…
Runner
is a calmly luminous orchestral piece with the pulsating, propulsive rhythms that animate much of Mr. Reich's music. Here, coloured lights play across the grid, and a line of dancers spools in silhouette along one wall, as duets, trios and larger groupings mutate centre stage."
New York Times
> Further information on Work: Pulse
Photo: Reich's <i>Runner</i> in Wayne McGregor's <i>Multiverse</i> at the Royal Ballet: ROH/Andrej Uspenski
> News Search
Email Newsletters
Sign up for news updates and offers via email
SIGN UP
ONLINE SCORES