Reich 80th in New York, London, Paris and beyond
(October 2016)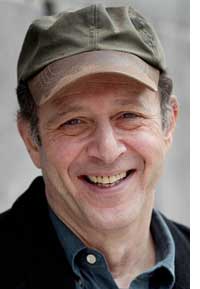 Events around the world honouring Steve Reich's 80th include first performances of two new works, Pulse and Runner.
Steve Reich's 80th is celebrated with over 400 performances in more than 20 countries this year. With the birthday itself falling on 3 October, this autumn brings major series in New York, London and Paris as well as first performances of his latest works. One of the leading composers of the past half century, Reich lays genuine claim to directing musical history onto an alternative path, opening composition to influences beyond the central classical canon.
Reich combined his early experiments on tape loops and phasing patterns with his researches into African drumming and Balinese gamelan to create a radical new style, simple in materials yet complex in its intricate rhythmic patterning. The scope of his works grew through the 1970s to create era-defining scores such as
Drumming
and
Music for Eighteen Musicians
. In succeeding decades he turned to recorded speech and documentary media to create
Different Trains
and his video operas in collaboration with Beryl Korot including
Three Tales
.
All these works are surveyed in the retrospectives mounted by Carnegie Hall in New York, the Barbican in London and the Philharmonie in Paris. The world premiere of
Pulse
for winds, strings, piano and electric bass provides the centrepiece of the all-Reich concert at Carnegie Hall on 1 November with the united forces of ICE, So Percussion and Synergy Vocals conducted by David Robertson.
Reich describes
Pulse
as "a calmer more contemplative piece" than his recent
Quartet
, employing a fixed pulse and steady harmonies with varied accentuation coming from hand alternation patterns on the piano. Following New York, the European premiere is at the Barbican's
Steve Reich at 80
series on 5 November, followed by an Ensemble Modern tour to Paris and Cologne, with further performances in Amsterdam's ZaterdagMatinee series and in a Los Angeles Philharmonic Green Umbrella concert in January.
Runner
is unveiled within a new ballet choreographed by Wayne McGregor and titled
Multiverse
at The Royal Ballet in London on 10 November, where it is combined with Reich's iconic tape work
It's Gonna Rain
. Scored for a large ensemble of winds, percussion, piano and strings,
Runner
opens and closes athletically, with its five movement sections each employing different note durations in a distinctive Reich arch-form. European concert performances of the new work follow from Ensemble Modern with the US premiere by Ensemble Signal in the Cal Performances series in Berkeley in the New Year.
For full information on Reich performances this year, including details of programmes in New York, London, Paris and beyond, visit
www.boosey.com/reich80
.
A new T-Shirt has been printed in honour of Reich's 80th, depicting the stage layout for
Music for 18 Musicians
. This is now available from
The Shop at Boosey.com
.
> Further information on Work: Pulse
Photo: Wonge Bergmann
> News Search
Email Newsletters
Sign up for news updates and offers via email
SIGN UP
ONLINE SCORES