Reich at 80: celebratory premieres of Pulse and Runner
(April 2016)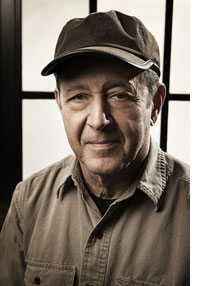 Two new Steve Reich ensemble works are announced for premiere in November, within celebrations in New York and London for his 80th birthday.
Celebrations for
Steve Reich
's 80th birthday year bring first performances of his latest two works in New York and London.
Pulse
receives its world premiere at Carnegie Hall on 1 November and travels to the Barbican in London on 5 November, both performances within series devoted to the composer.
Runner
is unveiled within a programme at The Royal Ballet in London choreographed by Wayne McGregor with first night on 10 November. Both works have further performances planned by ensembles and venues in the USA and Europe.
Pulse
, scored for winds, strings, piano and electric bass, provides the centrepiece of Carnegie Hall's all-Reich 80th birthday concert on 1 November, alongside performances of
Quartet
and
Three Tales
, his video opera with Beryl Korot. The premiere in New York features the combined forces of ICE, So Percussion and Synergy Vocals, conducted by David Robertson, and forms part of the series of concerts with Reich serving as the Richard and Barbara Debs Composer's Chair for Carnegie Hall's 2016-17 season.
Commissioners of
Pulse
are Carnegie Hall, Los Angeles Philharmonic, Barbican, KölnMusik - Kölner Philharmonie and Philharmonie de Paris. Following the New York performance the work travels to London on 5 November for its UK premiere given by Britten Sinfonia conducted by Clark Rundell within the Barbican's Steve Reich at 80 series. Performances by Ensemble Modern follow in Paris, Cologne and in the ZaterdagMatinee series in Amsterdam, and by the Los Angeles Philharmonic New Music Group at Walt Disney Concert Hall.
Steve Reich describes how "
Pulse
was completed in 2015 and was, in part, a reaction to my
Quartet
of 2013 in which I changed keys more frequently than in any previous work. In
Pulse
I felt the need to stay put harmonically and spin out smoother wind and string melodic lines in canon over a constant pulse in the electric bass and or piano. From time to time this constant pulse is accented differently through changing hand alternation patterns on the piano. All in all, a calmer more contemplative piece.
"As is well known, composing is primarily a solitary activity. However, after completing
Pulse
, I sought out suggestions for improving the piece from Maggie Heskin, my editor at Boosey and Hawkes. She offered several ideas which helped motivate me to find my solution of hand alternation patterns mentioned above. I want to thank Maggie for her thoughtful and generous help."
Steve Reich's ensemble work
Runner
is premiered at The Royal Ballet in London on 10 November in a new ballet within a mixed programme celebrating Wayne McGregor's 10th anniversary as Resident Choreographer. Concert performances of the new work will follow in coming seasons presented by co-commissioners Signal, Ensemble Modern, Cal Performances and Washington Performing Arts/Ensemble.
The new Reich ballet, as yet untitled, is the latest in a series of Wayne McGregor danceworks set to music by the composer, including
PreSentient
for Rambert choreographed to
Triple Quartet
,
Three Tales
for Stuttgart Ballet and the highly successful
Dyad 1929
created for Australian Ballet in 2009 and choreographed to Reich's
Double Sextet
. Reich remains one of the most popular composers for dance, attracting leading choreographers across the decades including Alvin Ailey, Richard Alston, Lucinda Childs, Laura Dean, Mats Ek, Eliot Feld, Anne Teresa de Keersmaeker, Jiri Kylián, Lar Lubovitch, Hans van Manen and Heinz Spoerli.
Steve Reich writes about the new work: "
Runner
, for a large ensemble of winds, percussion, pianos and strings, was completed in 2016 and is about 16 minutes in duration. While the tempo remains more or less constant, there are five movements, played without pause, that are based on different note durations. First even sixteenths, then irregularly accented eighths, then a very slowed down version of the standard bell pattern from Ghana, fourth a return to the irregularly accented eighths and finally a return to the sixteenths but now played as pulses by the winds for as long as a breath will comfortably sustain them. The title was suggested by the rapid opening and my awareness that, like a runner, I would have to pace the piece to reach a successful conclusion."
>
Visit the Steve Reich at 80 web page
>
Carnegie Hall
>
Barbican
>
Royal Ballet
Photo: Jay Blakesberg
> News Search
Email Newsletters
Sign up for news updates and offers via email
SIGN UP
ONLINE SCORES