Rouse Named Musical America's Composer of the Year
(November 2008)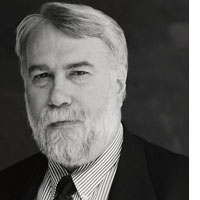 Christopher Rouse Named Musical America's Composer of the Year
Christopher Rouse has been named Composer of the Year by Musical America for 2009. Also recognized at the 2009 Musical America Awards at Lincoln Center next month will be Yo-Yo Ma as Musician of the Year, Marin Alsop as Conductor of the Year, Stephanie Blythe as Vocalist of the Year, and the Pacifica Quartet as Ensemble of the Year.

Rouse is celebrating his 60th birthday this season with performances around the globe, including the February 5 world premiere of his Oboe Concerto, led by Osmo Vänskä with the Minnesota Orchestra and soloist Basil Reeve. The composer will be in Minnesota to celebrate the premiere, which takes place just prior to his actual birthday (February 15).

Best known for his masterful orchestral scores, Rouse has made a remarkable contribution to the repertoire with twenty-four symphonic works to date. His latest piece, the Concerto for Orchestra (which premiered at the Cabrillo Festival this past summer and will enjoy an East Coast premiere in Baltimore this Friday, November 21, led by Conductor of the Year Marin Alsop), marks Rouse's eleventh concerto.
 
His works have been performed by several orchestras this year including the Los Angeles Philharmonic and Saint Louis Symphony Orchestra (Der gerettete Alberich), Dallas Symphony Orchestra (Symphony No. 2), Singapore Symphony Orchestra and Richmond Symphony (Trombone Concerto), and the New York Philharmonic (Rapture). Upcoming engagements include the Royal Liverpool Philharmonic Orchestra (Rapture), the Detroit Symphony Orchestra (Friandises), the Indianapolis Symphony Orchestra (Der gerettete Alberich) and Aspen Music Festival (Oboe Concerto).

A Baltimore native, Rouse currently resides in his hometown and teaches composition at The Juilliard School, serves as Visiting Composer at the Peabody Institute, and is composer-in-residence at the Aspen Music Festival and School. With this award he joins previous Musical America Composers of the Year from Boosey & Hawkes: Elliott Carter (1993), John Adams (1997), Ned Rorem (1998), and Steve Reich (2001).


Photo: Jeffrey Herman

Boosey & Hawkes Composer News