Rouse's Fifth Symphony Receives World Premiere with the Dallas Symphony
(January 2017)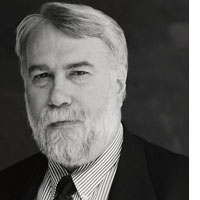 The premiere of Christopher Rouse's Fifth Symphony caps an already standout season for the composer, whose Organ Concerto debuted in November to great acclaim and whose recent symphonic album with the New York Philharmonic has been nominated for a Grammy Award.
Christopher Rouse
's much-anticipated Fifth Symphony debuts with the Dallas Symphony on February 10, conducted by Jaap van Zweden with additional performances on the 11th and 12th. One of America's most prominent composers, Rouse is best known for his mastery of orchestral writing, winning superlative praise and awards for his previous symphonies and concertos, including the 1993 Pulitzer Prize for his Trombone Concerto.
When approaching the composition of his Fifth Symphony, Rouse drew inspiration from Beethoven's own Symphony No. 5—the first piece of classical music Rouse remembers ever hearing. Rouse describes the musical parallels between the two works:
The opening of my symphony revisits the famous four note rhythm of Beethoven's, but the notes are quite different and things take a different turn after a few bars. The most extended reference is to the connective passage that links the third and fourth movements of the Beethoven: the mysterious passage for timpani over a long chord in the strings. My timpani part is identical to Beethoven's; once again, though, what goes on around it is different.


Appropriately enough, the 25-minute symphonic work is programmed alongside Beethoven's Piano Concerto No. 2 (performed by Emanuel Ax).
2016–2017 has been a standout season for Rouse, having also featured the much-lauded world premiere of his Organ Concerto on November 17, 2016. Performed by soloist Paul Jacobs with The Philadelphia Orchestra, led by Yannick Nézet-Séguin at the Kimmel Center, the concerto was praised by The Philadelphia Enquirer as "some of the composer's most satisfying music." Rouse's recent recording with the New York Philharmonic has also garnered praise and has been nominated for a Grammy Award for Best Orchestral Performance. (The all-Rouse recording features his Third and Fourth symphonies, Odna Zhizn, and Prospero's Rooms.)
Rouse's Fifth Symphony was commissioned by the Dallas Symphony Orchestra, Music Director Jaap van Zweden, with generous support of the Norma and Don Stone Fund for New Music; the Nashville Symphony, Giancarlo Guerrero Music Director; and the Aspen Music Festival and School, Robert Spano Music Director.
> Further information on Work: Symphony No.5
Photo: Jeffrey Herman
> News Search
Mailing List
Sign up for news updates and offers via email
SIGN UP
ONLINE SCORES