Sebastian Currier: Composer-in-Residence at Chelsea Music Festival
(June 2017)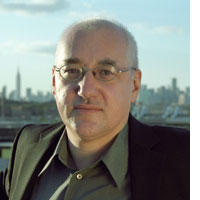 Sebastian Currier is featured as this year's composer-in-residence at the Chelsea Music Festival. Several of his celebrated works for strings are highlighted, but the cornerstone of his residency is the world premiere of two works from his Etudes and Lullabies project on June 16.
Sebastian Currier is the 2017 composer in residence of the Chelsea Music Festival, taking place June 9-17. The Chelsea Music Festival brings together leading international artists and musicians in a cross-sectional celebration of the performing, culinary and visual arts. This year, the festival returns for its eighth season with an exploration of its theme "Measuring Time," presenting nine days of events throughout the Chelsea neighborhood of New York City in a wide-ranging exploration of pulse and time.
Currier, who has earned particular acclaim for his writing for strings, has several of his chamber works presented throughout the course of the festival:
Clockwork
(1989) for violin and piano,
Next Atlantis
(2008) for string quartet, and
Quiet
Time
(2004) for string quartet. The Verona Quartet, the festival's ensemble-in-residence, performs the world premiere of two new string quartets on Friday, June 16—
Etude 2: Interactions
and
Lullaby 1: Pulsing
.
The world premiere is part of Currier's ongoing
Etudes and Lullabies
project, a large-scale collection of short works for string quartet. The collection is made up of contrasting formats of etudes and lullabies—the former representing intensity, energy, and athleticism, and the latter representing calm, intimacy, and release. Currier's
Lullaby 3: Resolving
from the collection has already been premiered by the Cassatt Quartet earlier this year in March at the Tenri Cultural Institute; next performances of etudes and lullabies will be at
Carnegie Hall with Borromeo SQ
(10/20/17), and with the
Orion String Quartet
, presented by Chamber Music Society of Lincoln Center on January 25, 2018.
[
Click here for more information about the Etudes and Lullabies project
.]
Friday, June 9, 2017 | 7:30–9:30 PM
Festival Opening Night Gala

St. Paul's German Lutheran Church
Currier
Clockwork
(1989) for violin and piano
Monday, June 12, 2017 | 6–8 PM

Casa Italiana Zerilli-Marimò at NYU
Currier
Next Atlantis
(2008) for string quartet
Tuesday, June 13, 2017 | 7:30–9:30 PM

General Theological Seminary
Currier
Quiet Time
(2004) for string quartet
Friday, June 16, 2017 | 6:45–9:30 PM

St. Paul's German Lutheran Church
Currier
Etude: Interactions
and
Lullaby: Pulsing
(World Premiere)
> Further information on Work: Etudes and Lullabies
Photo: Jeffrey Herman
> News Search
Email Newsletters
Sign up for news updates and offers via email
SIGN UP
ONLINE SCORES