Sebastian Currier Composes "Etudes and Lullabies," a Large-Scale Collection of Short Works for String Quartet
(February 2017)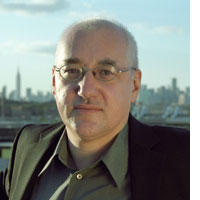 Etudes and Lullabies is an ongoing string quartet project for which Currier has composed 12 short works—six etudes and six lullabies—that will be premiered in pairs by different quartets. The Cassatt String Quartet—a longtime champion of Currier's work—provides a preview of the collection on March 26 in New York, with a world premiere performance of one of the lullabies.
On March 26, the Cassatt String Quartet will give the world premiere of a lullaby by Sebastian Currier at the Tenri Cultural Institute in New York City. This premiere performance represents the tip of the iceberg for what is a much larger, ongoing string quartet project by Currier called Etudes and Lullabies. The project has begun as a collection of 12 short pieces—six etudes and six lullabies, commissioned by several different string quartet ensembles. While each quartet will premiere a specific etude and lullaby pairing, the pieces in the collection can eventually be performed separately, or together in any combination.

Currier introduces the project:

'Etudes and Lullabies' is a collection of 12 independent pieces for string quartet: six etudes and six lullabies. For me, these two forms perfectly complement each other, representing two fundamental and opposing aspects of music: the ability to energize and to soothe. An etude projects struggle, intensity, energy, and triumph over difficulty. A lullaby represents the polar opposite: It projects calm, quiet, intimacy, and letting go. The etude embodies defiance, the lullaby surrender. The piano repertoire has many collections of short pieces: etudes, preludes, nocturnes, preludes and fugues, and so forth. The string quartet, strangely, does not. I wrote this collection with that in mind.

Currier's celebrated writing for strings has been embraced by several leading artists, including violinist Anne-Sophie Mutter, for whom he has written several works, including his "rapturously beautiful" (New York Times) violin concerto Time Machines. Additionally, his recent work for 12 cellos, Spark, was premiered in 2015 by the cellists of the Berliner Philharmoniker. Currier has written extensively for string quartet throughout his career, including the works Next Atlantis (2008), Quiet Time (2004), REM (2003), String Quartet No. 2 (1995), and Quartetset (1995). The Cassatt String Quartet has particularly championed his music, having released an all-Currier album on Albany Records in 2006 that features Quartetset and Quiet Time.

The project will continue through the 2017–2018 and 2018–2019 seasons, with further performances and commissioners to be announced. After the Cassatt String Quartet's performance this spring, the next announced Etudes and Lullabies string quartet premiere will take place at Carnegie Hall on October 20, 2017 with the Borromeo String Quartet.
Photo: Jeffrey Herman
> News Search
Mailing List
Sign up for news updates and offers via email
SIGN UP
ONLINE SCORES