Sergei Rachmaninoff: catalogue grows for B&H
(October 1999)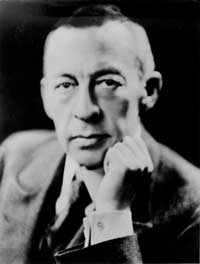 Sergei Rachmaninoff: catalogue grows for B&H
Following successful negotiations with the Rachmaninoff Estate, Boosey & Hawkes is delighted to announce its acquisition of copyrights in a substantial number of major works, including the ever-popular Rhapsody on a Theme of Paganini. The agreement provides B&H with worldwide ownership of some 40 additional works and arrangements for the full life of copyright.



With this acquisition, the Boosey & Hawkes catalogue now includes all the major works of Rachmaninoff, including the complete piano concertos and operas, and the bulk of his orchestral works, piano pieces, songs and chamber music, offering enhanced possibilities for the integrated marketing of Rachmaninoff's music, not only in live performance, but also for recording, broadcast, dance, tv, film and multi-media usage.

The most celebrated Rachmaninoff works included in the new contract date from the composer's late burst of creativity in America during the 1930s. The Rhapsody on a Theme of Paganini, Symphonic Dances, Symphony No.3, and the Corelli Variations for piano, are among the most widely performed classical scores in the concert hall, and continue to be frequently recorded by the world's most prestigious pianists, conductors and orchestras, as well as used in ballets by top choreographers. These works are joined by Piano Concerto No.4, which has enjoyed a great revival of interest in recent years, and early works such as Prince Rostislav.

The signing of the new contract comes at a time when Rachmaninoff's standing in the pantheon of composers is at its highest level to date. Always one of the best-loved of 20th century composers with the general public, particularly through usage of his music in such films as Brief Encounter and Shine, Rachmaninoff has in recent years enjoyed a marked critical shift in his favour. Wider exploration of Rachmaninoff's complete output – through recordings, festival features, and film – has opened up new critical perspectives, and there is now greater awareness of the range and mastery of his skills as a composer of songs, operas, symphonies and choral music.
> Further information on Work: Rhapsody on a Theme of Paganini
> Further information on Rhapsody on a Theme of Paganini
> News Search