Shostakovich: Latest publications in the New Collected Works
(March 2017)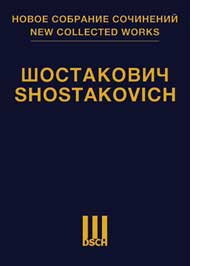 The latest batch of releases in the Shostakovich New Collected Works from DSCH focuses on operatic, vocal and choral works.
The New Collected Works of
Dmitri Shostakovich
published by DSCH is a major project that will ultimately run to 150 volumes in hardback score format, suitable for libraries, score collectors and students. A quarter of the featured scores, amounting to more than a hundred works, are lesser known or unpublished and will be on sale for the first time. As well as original works by the composer the series also includes Shostakovich's arrangements of music by Domenico Scarlatti, Beethoven, Schubert, Schumann, Mussorgsky, Rimsky-Korsakov, Johann Strauss, Youmans, Braga, Tischenko and others.
Latest releases include a piano score of
Katerina Izmailova
, the composer's revised version of his opera
Lady Macbeth of Mtsensk
, complementing the full scores available in the pair of volumes 58a and 58b. A full score of the 25-minute suite from his opera
The Nose
is now available, consisting of four virtuosic chamber orchestral movements (including the famous percussion interlude) framing three contrasted vocal numbers with tenor and baritone soloist.
The
Ten Poems on Texts by Revolutionary Poets
, available as a new choral vocal score, sets texts by late 19th century, early 20th century and Bolshevik writers and combines the grand style of Mussorgsky and Borodin with the Soviet mass-song. A further choral vocal score collects together
Loyalty
, a setting of eight ballads for male chorus to texts by the patriotic poet Dolmatovsky celebrating the life and work of Lenin, with Russian Folk Songs and choruses drawn from the film scores.
The Unforgettable Year 1919
is published for the first time as a piano score. This film was a classic piece of Soviet propaganda distinguished largely by Shostakovich's score including
The Assault on Beautiful Gorky
. The composer's music was later arranged into a concert suite by his friend Lev Atovmyan. 1919 was the year the counter-revolutionary White Army attacked Petrograd with Stalin arriving on the battlefield to rally the communist Red Army to rout the enemy.
Katerina Izmailova
op.29/114
Piano score (Vol.59)
979-0-060-13380-0 £143.99
Suite from The Nose
op.15a
Full score (Vol.68)
979-0-060-13326-8 £72.99
Loyalty; Russian Folk Songs; 3 Romances on Poems
Choral vocal score (Vol.85-86)
979-0-060-13366-4 £53.99
Ten Poems on Texts by Revolutionary Poets
Choral vocal score (Vol.88)
979-0-060-13359-6 £45.99
The Unforgettable Year 1919
op.89
piano score (Vol.138)
979-0-060-13381-7 £93.99
Recent years have seen the completion of the cycle of all 15 symphonies in the New Collected Works edition from DSCH, in full scores together with reductions either for piano (solo or 4 hands) or where voice or chorus is included as vocal scores. The collection of six concertos are also completed both as scores or in reductions for solo instrument and piano, covering the pairs of concertos for piano, violin and cello.
>
DSCH Shostakovich New Collected Works
> Further information on Work: Katerina Ismailova
> News Search
Email Newsletters
Sign up for news updates and offers via email
SIGN UP
ONLINE SCORES