Sing Motets: Argentinian choir wins new piece by Karl Jenkins as part of international choral competition
(August 2015)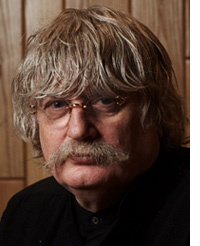 Karl Jenkins announces Cantoría de la Merced from Córdoba, Argentina, as the winners of Sing Motets. The competition invited choirs from all around the world to showcase their performances of Motets, the latest set of choral pieces by the popular Welsh composer.
Last October Boosey & Hawkes launched a competition to mark the release of Karl Jenkins's album
Motets
, a new collection of SATB arrangements of some of his most beloved works. Amateur choirs from all over the globe were encouraged to share their renditions of
Motets
on social media for the chance to win a new work especially written for them by Jenkins, with the option to present it at the iconic Carnegie Hall in New York. Cantoría de la Merced were chosen from a very strong pool of entries for their "unique" rendition of
Laudamus Te
.
(Watch the winning entry
here
.)
Announcing the winner on 20 June, Karl Jenkins said: "It has been wonderful to listen to so many varied entries and to see people of different ages and different parts of the world participating in our Sing Motets competition. Selecting the winner was extremely difficult but I'm delighted to have chosen Cantoría de la Merced from Argentina. Their performance was totally unexpected, different from anything else I heard. There was an emotional element and a fluidity to it that made it unique. They are quite special and I really look forward to writing a new piece for them."
(Watch Karl Jenkins' announcement
here
.)
Cantoría de la Merced have been long time champions of Karl Jenkins in Argentina and had already given the local premiere of
Motets
. Their win was greeted with "endless joy" and the choir is now set to perform the new work at the Carnegie Hall in January 2017 thanks to a partnership with Distinguished Concerts International New York.
(Watch Cantoría de la Merced's reaction to their Sing Motets win
here
.)
Karl Jenkins' long-awaited autobiography is released on 10 September.
Still With The Music
documents one of the most successful careers in modern music, offering fascinating insight into Jenkins' life from his modest upbringing in Wales to the global success of works such as
The Armed Man
and
Adiemus
. To mark the occasion, Warner Classics is releasing a companion CD and
Voices,
an 8CD box set featuring Jenkins' most popular recordings.
Voices
will also include the world premiere recording of
The Healer
, a 40-minute choral cantata for St Luke. Fans will have the opportunity to enjoy these works live at a special
Still With The Music
concert at the Royal Albert Hall on 30 October, which will be followed by a book and CD signing.
Photo: © Rhys Frampton
> News Search
Mailing List
Sign up for news updates and offers via email
SIGN UP
ONLINE SCORES