Steve Reich Focus at Big Ears Festival
(March 2014)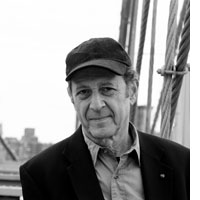 This month: Steve Reich is Artist-in-Residence at the three-day festival in Knoxville, Tennessee, March 28–30, 2014; Jonny Greenwood to perform Electric Counterpoint (1987).
Since its inception in 2009, the artfully curated Big Ears Festival has presented an annual offering of provocative music, visionary art, and southern hospitality in downtown Knoxville, Tennessee. With eclectic line-ups ranging from new classical music to experimental rock to indie pop, the festival draws unexpected parallels between artists and sounds that encourage audiences to open their ear-lids and listen to great music in new contexts. This year proves to be no different. In 2014, the canonical and trailblazing composer Steve Reich will join the festival line-up as Artist-in-Residence for a weekend highlighting the full range of his repertoire from the classic Music for 18 Musicians (1974–76) to his most recent work, Radio Rewrite (2013). As the winner of the Pulitzer Prize, multiple GRAMMY awards, and most recently, the prestigious BBVA Foundation Frontiers of Knowledge Award for his renewal of culture and fusing of diverse traditions, there are "just a handful of living composers who can legitimately claim to have altered the direction of musical history and Steve Reich is one of them" (The Guardian).

The Big Ears Festival will feature Drumming (1970–71), presented by the internationally renowned So Percussion, and the band of new music gurus, Ensemble Signal, will perform the seminal Music for 18 Musicians and Radio Rewrite. Also on the festival program is Jonny Greenwood of Radiohead who will perform Electric Counterpoint for electric guitar and tape. It was Greenwood's performance of the same piece in Poland that inspired Radio Rewrite.

To watch a video documentary of Steve Reich discussing his own music, click here.

In addition to Steve Reich, many more musical greats will grace the Big Ears stage: John Cale, a founder of the Velvet Underground with the late Lou Reed, the American rock band Television, Marc Ribot, Bryce Dessner, and Glenn Kotche, just to name a few, will make appearances.

View the full line-up here.
Photo: Jeffrey Herman
> News Search
Mailing List
Sign up for news updates and offers via email
SIGN UP
ONLINE SCORES