Steve Reich: You Are (Variations) premiere in LA
(October 2004)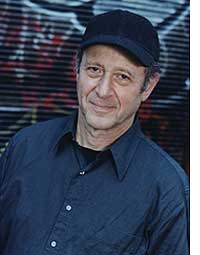 Steve Reich: You Are (Variations) premiere in LA
Steve Reich
's 70th birthday falls in 2006, and paving the way over the next year are first performances of You Are (Variations), his new work for six-voice chorus and ensemble.
You Are (Variations)
, Reich's most extended work since
Three Tales
, receives its premiere on 24 October at Disney Hall in Los Angeles. Grant Gershon conducts the Los Angeles Master Chorale, which commissioned the work along with Lincoln Center and Ensemble Modern. The 27-minute score travels to Europe in the New Year within all-Reich concerts at the Alte Oper in Frankfurt (12 January) and the Barbican in London (18 January), featuring Ensemble Modern, Synergy Vocals and conductor Stefan Asbury.
Like earlier Reich works employing texts - such as
Tehillim
,
The Desert Music
and
Proverb
- the new score focuses on timeless questions of ethics, aesthetics and the nature of consciousness itself. The epigrammatic texts in the four movements are drawn from philosophy and scripture, all exploring aspects of existence, the 'You Are' of the title, and each movement takes the form of a set of variations.
The first movement sets a statement by the 18th century Jewish mystic Rebbe Nachman of Breslov, "You are wherever your thoughts are", and the ensuing journey traverses a wider harmonic gamut than is travelled in many of Reich's works. The composer explains that the movement is "a commentary on how one listens to music. If one is really listening, then where it leads emotionally, you follow… regardless of the style. The harmonies go from bright to sunny and non-chromatic to rather dissonant and chromatic… our minds do wander, and the music varies quite a bit to encompass that."
As contrast, the second movement's setting of verses from
Psalm 16
, "I place the Eternal before me", is a model of harmonic stability using only four basic chords, suggesting to Reich the focused concentration of Judaic meditation, perhaps "a visualisation of the four letters of the Tetragrammaton (God's name) in your mind's eye. It can also consist of putting your mind on whatever you consider to be eternal values, or if you reject that, maybe to question why."
The third movement, like its counterpart in
Tehillim
, is calm and reflective, setting Wittgenstein's "Explanations come to an end somewhere". For Reich this answers the question posed by physics as it re-examines smaller and unimaginably smaller particles, repeatedly "calling for a re-thinking of the basic structure of the universe." To sum up the work Reich draws on the Talmud for the final movement, with a Hebrew setting of "Say little and do much", which he views as "very much in the American grain".
Plans are developing for celebrations of Reich's 70th birthday around the world, with major retrospectives already planned in New York and the Barbican in London. New works for 2006 include a collaboration between the London Sinfonietta and dancer Akram Khan, which will tour internationally throughout Europe.
If you are planning Reich events for his 70th birthday in 2006 please contact:
helane.anderson@boosey.com
(North and South America)

emma.kerr@boosey.com
(Europe, Far East, Australasia)
frank.harders@boosey.com
(German-speaking territories)
For repertoire ideas please visit
www.boosey.com/reich
.
Steve Reich:
You Are (Variations)
(2004)
3S,A,2T
2.1.corA.3.0—perc(4):2marimba/2vib—4pft—strings
Duration: 27 minutes
> Further information on Work: You Are (Variations)
Photo: Steve Reich © Alice Arnold
> News Search
Email Newsletters
Sign up for news updates and offers via email
SIGN UP
ONLINE SCORES