Steve Reich at 80: performances around the globe
(May 2016)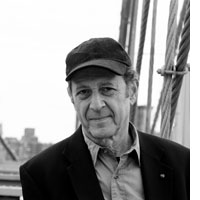 Over 400 performances are planned this year in celebration of Steve Reich's 80th birthday on 3 October 2016, with events in over 20 countries around the globe.
Featured Steve Reich compositions range from works for solo instrument and tape, through classic ensemble scores such as
Drumming
and
Music for Eighteen Musicians
, to his video operas
The Cave
and
Three Tales
created in collaboration with video artist Beryl Korot. Two new Reich works are to be premiered in November and toured:
Pulse
for winds, strings, piano and electric bass and
Runner
for a large ensemble of winds, percussion, pianos and strings.
For a full performance diary please visit
www.boosey.com/reich80
26 Jan 2016
University of South Alabama
First of four Steve Reich at 80 concerts ranging from early works to
Mallet Quartet


10 Mar 2016
Royal College of Music, London
Reich residency as part of Exploring Minimalism series including
Quartet, Double Sextet and Three Movements


17 Mar 2016
Esplanade Concert Hall, Singapore
London Sinfonietta presents first Singapore performances of
Radio Rewrite
and
Music for 18 Musicians


17-24 Mar 2016
Dutch tour
Asko|Schönberg presents first Dutch performances of
Radio Rewrite
on tour to Amsterdam, Utrecht and Nijmegen.
14 Apr 2016
Massey Hall, Toronto
Steve Reich at 80 concert by Soundstreams including
Music for 18 Musicians
and
Tehillim


10-20 May 2016
Vale of Glamorgan Festival
Featured composer at Vale of Glamorgan Festival in Wales including
Different Trains


13 May 2016
Hochschule, Hannover
Reich visits Hannover for feature including
Three Tales
with Ensemble Modern
18 May 2016
Suntory Hall, Tokyo
Japanese premiere of
The Four Sections
with Tokyo Metropolitan Symphony Orchestra conducted by Kristjan Järvi
24 May 2016
Southbank Centre, London
Music for 18 Musicians
performed by Colin Currie Group and Synergy Vocals, also touring to Rotterdam
4 Jun 2016
Herkulessaal, Munich

The Desert Music
with Bavarian Radio Orchestra, Synergy Vocals and David Robertson
10/12 Jul 2016
Kaohsing, Taiwan
Performances of
Music for 18 Musicians
by Accent Chamber Music
16-21 Jul 2016
Lincoln Center Festival, New York
Three concert Reich Reverberations series with So Percussion, the JACK Quartet and Ensemble Signal including
Drumming
,
Different Trains
and
Music for 18 Musicians


4-6 Aug 2016
Sydney Opera House
The Desert Music
with Sydney Symphony Orchestra, Synergy Vocals and David Robertson
24 Aug 2016
Jacob's Pillow Dance
Pacific Northwest Ballet dances Benjamin Millepied's choreography to
Three Movements
at the Massachusetts festival with further performances in its 2016/17 season in Seattle.
3 Sep 2016
BBC Proms, London
Reich programme at Bold Tendencies multi-storey car park in Peckham, including
Music for a Large Ensemble
and
Eight Lines


9 Sep 2016
Merano/Bucharest/Leipzig/Dresden
MDR Symphony Orchestra and Kristjan Jarvi tour
Variations for Winds, Strings, and Keyboards
in Italy, Romania and Germany.
9-10 Sep 2016
Davies Symphony Hall, San Francisco
Double Sextet
and
Three Movements
performed by Eighth Blackbird, and San Francisco Symphony conducted by Michael Tilson Thomas
17 Sep 2016
Wuppertal Oper
New immersive production of
Three Tales
in Wuppertal staged by Berthold Schneider
29 Sep 2016
Edge Hill Station, Liverpool

Different Trains
performed in a historic station with a new film by Bill Morrison, presented by Metal.
11 Oct 2016
Brno Janácek Festival
Czech premiere of
The Cave
with the Brno Contemporary Orchestra
1 Nov 2016
Carnegie Hall, New York
Steve Reich 80th Birthday Celebration including world premiere of
Pulse
and
Three Tales
with ICE, So Percussion, Synergy Vocals and David Robertson. A feature runs throughout the 2016/17 season including four concerts curated by Reich.
5 Nov 2016
Barbican, London
Steve Reich at 80 weekend: includes UK premiere of
Pulse
and
Three Tales
with Britten Sinfonia, Synergy Vocals and Clark Rundell
6 Nov 2016
Barbican, London
Steve Reich at 80 weekend: London Symphony Orchestra all-Reich concert and Discovery Day including
The Desert Music
conducted by Kristjan Järvi
10-17 Nov 2016
Royal Opera House, London
The Royal Ballet's Resident Choreographer Wayne McGregor premieres a new ballet set to Steve Reich's new score
Runner


12-13 Nov 2016
Philharmonie de Paris
Steve Reich Unlimited Weekend with French premieres of
Pulse
and
Runner
by Ensemble Modern with Bradley Lubman and a Kronos Quartet concert
13 Nov 2016
Philharmonie, Cologne
German premieres of
Pulse
and
Runner
by Ensemble Modern and Bradley Lubman
16-26 Dec 2016
Bockenheimer Depot, Frankfurt
Frankfurt Opera feature with
The Cave
and
Music for 18 Musicians
by Ensemble Modern, Synergy Vocals and Bradley Lubman
14 Jan 2017
Concertgebouw, Amsterdam
Zaterdag Matinee concert including Dutch premieres of
Pulse
and
Runner
by Ensemble Modern and Bradley Lubman
17 Jan 2017
Disney Hall, Los Angeles
West Coast premiere of
Pulse
by LA Philharmonic New Music Group and Jeffrey Milarsky in Green Umbrella series, with
Mallet Quartet
and
Tehillim
Photo: Jeffrey Herman
> News Search
Email Newsletters
Sign up for news updates and offers via email
SIGN UP
ONLINE SCORES